Saudi Arabia's EV battery bet is threat to its economy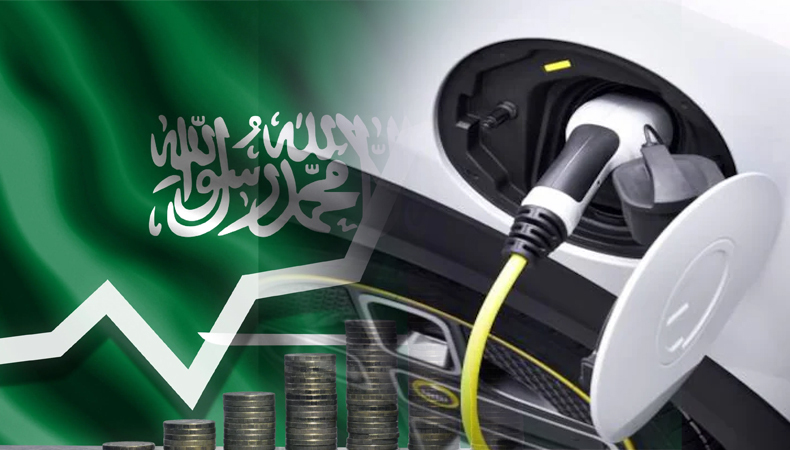 Saudi arabia–The oil capital of the world wants to go clean and electric. It is obtaining minerals that are essential for batteries and investing in the supply chain for electric vehicles. That ought to raise a red flag for nations and businesses that frequently announce grand goals but do little to see them through.
Saudi Arabia has attracted lithium miners and battery makers to set up facilities, filling a crucial gap as shortages loom and businesses try to obtain unaffordable materials in an effort to scale up manufacturing. By the end of this decade, the nation wants 30% of the vehicles on the highways around its capital city to be electric.
The development of its processing units for lithium hydroxide monohydrate, a crucial component for batteries, has begun, according to Australian battery chemicals and technology business EV Metals Group Plc, furthering its objectives in the kingdom.
The company has been conducting feasibility studies with its partners for the past two years, and the facility now intends to manufacture high-grade chemicals for cathode materials in power packs, a crucial component that EV manufacturers are attempting to obtain. Avass Group, another Australian business, reported that it had inked a contract in February to collaborate with the nation on the production of lithium batteries and electric vehicles.
Related Posts
As part of a bigger initiative to strengthen its mining industry, Saudi Arabia's Ministry of Industry and Mineral Resources has also announced $6 billion in projects. Additionally, it is evaluating about 150 requests for exploration licenses from foreign businesses.
The country's sovereign wealth fund and Lucid Group Inc., a manufacturer of electric vehicles, entered into an agreement for the government to purchase up to 100,000 of them over a ten-year period.
It will invest more than $3 billion in financing and incentives over the next 15 years to build the factory. The top iPhone assembler, Foxconn Technology Group, is negotiating to build a $9 billion factory to produce processors and components for electric vehicles.
It was shrewd and foresighted to build factories and processing facilities inside its borders. In addition to eventually lowering costs, it will also ensure that the country plays a significant role in the global value chain for electric vehicles. Few other countries have so far been able to achieve industrial scale, except for China and its enormous battery manufacturers.
The resources, money, and conviction that Saudi Arabia possesses are precisely what many businesses and nations lack. It is currently utilizing its advantages with the oil price and demand to make a move that is difficult for others.
Additionally, due to its location, it can supply Europe and obtain resources from China and Australia. To quickly access its estimated $1.3 trillion in mineral resources, the kingdom has begun evaluating and issuing mining permits. Compare that to the US, where approvals for such extraction programs have declined to multi-year lows and permission is sluggish.
The lithium in the salty brine byproduct that is produced near its oilfields is becoming a crucial source for the metal as a supply shortage grows, so it might also build its own resources in the meanwhile. The removal and processing of lithium into a pure enough form for use in batteries is a current research topic.
As costs rise due to shortages and businesses compete with increasingly stringent environmental rules, Saudi Arabia is making strides in the field of battery materials, turning what could have been a serious threat to its economy into a long-term advantage.
It's practically too late for the US and several regions of Europe to catch up. Other Middle Eastern nations are attempting to shift away from an economy dependent on oil and toward more environmentally friendly technology. The Khalifa Industrial Zone in Abu Dhabi recently attracted a lithium company to build facilities to extract the metal and recover important byproducts from lithium-mica and phosphate rocks.
Therefore, it shouldn't come as a surprise if companies and countries soon find themselves trading their reliance on Saudi Arabian oil for essential battery components, much like they have done with China.