Sudanese Lose Life To Police Brutality Over Cry For Democracy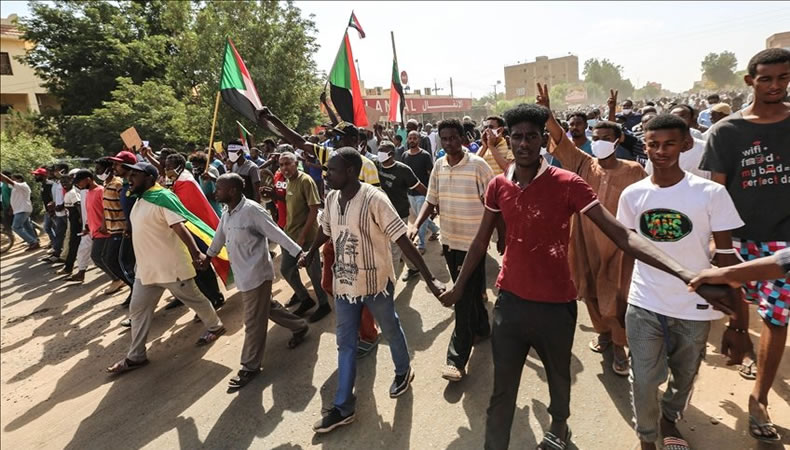 Sudan– Sudanese are protesting for civilian rule and protests are rocking most cities of the country. But the anti-coup protests have been violent and have taken lives of almost 187 civilians, confirmed reports have stated.
According to a doctors' union, many people have been wounded in the latest protests that have erupted in the Sudanese capital over deteriorating economic conditions following a military take-over. Almost 70 were hit by rubber bullets, while in clashes with police officials. This has become evident after social media became active with videos showing police brutality to disperse the crowds. Three of the wounded were shot in either the head or chest and are currently in intensive care, it added.
Riot police used tear gas to disperse thousands of protesters who had sought to reach the Republican Palace, seat of the military government. Thursday's marches were the latest in near-daily street protests since the military took over on Oct. 25, removing a civilian-led transitional government. Since then, at least 87 people have been killed and thousands wounded in a bloody crackdown on protesters, according to the doctor's union. Sudan has been facing a dire economic situation since the October military takeover.
Related Posts
In November last year, Sudan's top general Abdel Fattah Al-Burhan (L) and PM Abdalla Hamdok had signed a deal to restore the transition to civilian rule in the country. The youth was not happy with this arrangement, who had selected, Mr. Hamdok, in the hope of better and fair governance. But with the PM having decided to step down, the streets are filling up with pro-democracy crowds and protests, yet again.
A military coup had conspired in October 2021, and could not let the government sustain itself. Almost two weeks before the military coup, Gen. Abdel Fattah Al-Burhan had mercilessly dissolved the government, as well as the ruling joint military-civilian Sovereign Council — that was supposed to lead the country toward full civilian rule. Burhan also declared a state of emergency and detained Sudan's civilian leadership.
Streets were crying mayhem and all against any peaceful resolution with the military. But Hamdok had his reasons who said that this would at least give him the chance to keep some of his promises to his people. While a grassroots revolution had ousted the long-term dictator Omar Al- Bashir in 2019, the dream of a democracy still evades Sudan. It has now become evident that despite the civilian and protest leaders along with the military reaching a power-sharing arrangement thereafter, the goal of transitioning to full civilian rule has not come through. Further, the new constitution and democratic elections is a far cry.
Political analysts believe that this is the dangerous impasse Sudan finds itself in. On one side, protesters and activists, determined to secure Sudan's democratic transition; on the other, a military determined to entrench itself. Hamdok's departure didn't really change the stakes for either side, but it exposed very real and dangerous fractures.