Summer Music Festival Guide: From Lebanon to the UK and Beyond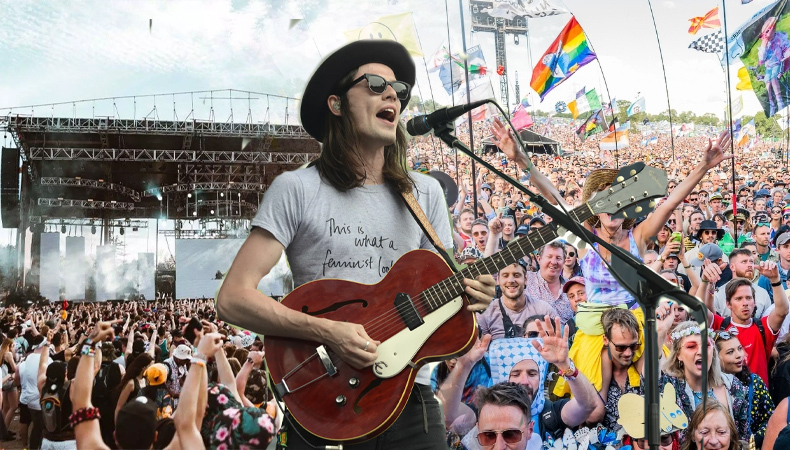 Summer is festival season, and if you want to take in the finest that the international music scene has to offer, we've got you covered. This summer's hottest music events, from the storied Glastonbury in the UK to the energetic Baalbeck International Festival in Lebanon, are listed here for your convenience.
Also Read – 2nd Richest Woman In Music – Taylor Swift, Who Is In First Place?
Glastonbury – Pilton, UK (June 21-25)
The most well-known music festival in the UK, Glastonbury, is regarded as one of the top concerts in the world. Glastonbury, a festival with a history dating back more than 50 years, draws many visitors to the lovely Somerset countryside. Along with a broad schedule of musical artists that includes Elton John, Guns N' Roses, and indie darlings Arctic Monkeys, Glastonbury also presents stand-up comedy, cabaret, circus acts, theatre, and dance events. At Glastonbury, there are more than 50 stages and venues, so there is something for everyone.
Roskilde – Roskilde, Denmark (June 24-July 2)
Roskilde is a festival that Glastonbury devotees shouldn't miss. Roskilde offers a blend of music, arts, activism, camps, and freedom with a similar curatorial ethos. Hip-hop legend Kendrick Lamar, rap icon Lil Nas X, Britpop royalty Blur, and gifted singer-songwriter and rapper Lizzo are among this year's headliners. Roskilde's outstanding lineup and energetic atmosphere offer an amazing experience.
Montreux Jazz Festival – Montreux, Switzerland (June 30-July 15)
The Montreux Jazz Festival is the place to be if you want a more upscale festival experience. This event, inaugurated in 1967 and located on the breathtaking Lake Geneva shoreline, has grown to be a refuge for music fans. Even while jazz is still a major component of the festival, Montreux has a diversified schedule that includes both classic artists like Bob Dylan and Lionel Richie and more recent acts like Sam Smith and Jon Batiste. Music lovers should not miss the Montreux Jazz Festival because of its stunning setting and stellar lineup.
Baalbeck International Festival – Baalbeck, Lebanon (Weekends, July 1-16)
One of the few local music festivals that take place in the summer is the Baalbeck International Festival. The Beqaa Valley in Lebanon's Beqaa Valley is home to the spectacular ancient Roman Acropolis, and this festival presents a distinctive fusion of opera, jazz, world music, Arab pop, and classical concerts. The Al-Kindi Ensemble, Sheikh Hamed Daoud and the Damascus Whirling Dervishes, Lebanese music diva Melhem Zein, and Italian dancer Roberto Bolle are among the artists performing this year. At the Baalbeck International Festival, you may fully immerse yourself in the area's rich cultural legacy.
Mad Cool – Madrid, Spain (July 6-8)
One of the most dependable festivals in Europe, Mad Cool is renowned for its stellar roster. This event brings together an eclectic group of musicians with a concentration on rock and techno music. Angel Olsen, The Black Keys, Red Hot Chilli Peppers, Franz Ferdinand, and Spain's own Cupido are this year's headliners. Mad Cool is the place to be if you're searching for a festival with a dependably top-notch lineup.
Pitchfork – Chicago, US (July 21-23)
Pitchfork Festival in Chicago is renowned for its ability to showcase emerging talent alongside big-name artists. This year's headliners include The Smile (Thom Yorke and Jonny Greenwood of Radiohead with drummer Tom Skinner), folk-rock trio Big Thief, and the genre-defying Bon Iver. With a reputation for championing new music, Pitchfork Festival offers a unique opportunity to discover exciting artists on the rise.
WOMAD – Malmesbury, UK (July 27-30)
The acclaimed World of Music, Arts, and Dance (WOMAD) event honours the sounds of various cultures. WOMAD presents audiences to remarkable musicians from all around the world with a focus on talent from outside the Western mainstream. Femi Kuti and the Positive Force, Bombay Bicycle Club, The Cinematic Orchestra, and local acts including Algerian legend Souad Massi and Palestinian band 47Soul are among the event's headliners this year. At WOMAD, immerse yourself in the dynamic sounds of the world.
Sziget – Budapest, Hungary (August 10-16)
Sziget, one of the biggest music festivals in Europe, is held on the picturesque Old Buda Island on the Danube and is referred to as "Europe's Burning Man." Sziget has a varied roster with more than 1,000 performances spread over a week. Florence + The Machine, Imagine Dragons, David Guetta, Mumford & Sons, Lorde, and Billie Eilish are some of this year's headliners. Rock, electronic, and pop are just a few of the musical genres that Sziget offers.
Also Read – Top 10 TikTok Songs In 2023 Which Influenced Music Trends
Attend these fantastic music events this summer and get ready to go on a musical adventure. These festivals, which range from the renowned Glastonbury to the cultural diversity of Baalbeck, provide a blend of top-notch performances, a variety of genres, and remarkable experiences. Set aside the time to mark your calendars and prepare to be mesmerised by the power of live music.