Turkey Anticipates UAE and Saudi Investments in Energy and Defense Sectors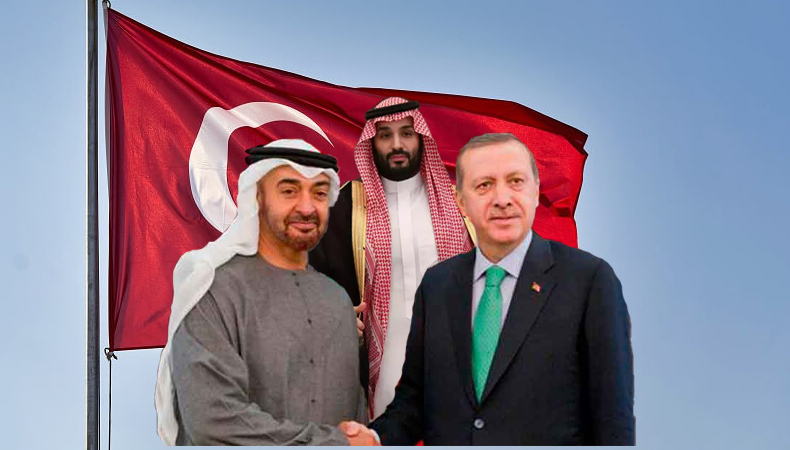 The United Arab Emirates (UAE) and Saudi Arabia are expected to invest in Turkey's energy and defence sectors as a result of talks facilitated by senior Turkish economic officials in Abu Dhabi. After years of economic difficulties, this action represents Turkey's efforts to mend diplomatic relations and draw much-needed investments. Turkey's beleaguered economy and foreign exchange reserves may benefit from direct investments made possible by the conversations between Turkish and Gulf officials. The specifics of the investment transactions, such as their scope and chronology, are still unknown.
Also Read – What to Expect for Turkey's big bash -Erdogan's Inauguration
Turkey has launched a diplomatic campaign to improve relations with Saudi Arabia and the UAE since 2021. Increased investments from the Gulf region as a result of these initiatives have reduced economic strain on Turkey. The recent trip to the UAE by Turkish Vice President Cevdet Yilmaz and Finance Minister Mehmet Simsek was intended to establish the framework for future business partnerships and investments. In the near future, President Tayyip Erdogan is also anticipated to travel to the area, underscoring Turkey's commitment to strengthening relations.
The conversations in Abu Dhabi, according to sources with knowledge of the talks, were concentrated on potential investments in Turkey's energy and defence industries. The specific details and breadth of these partnerships are still unknown, although Gulf officials are allegedly considering direct investments. Turkey's economic prospects are anticipated to be improved by the infusion of finances from Saudi Arabia and the United Arab Emirates, as well as Turkey's strategic strengths in these vital areas.
The recent re-election of President Erdogan resulted in the nomination of Vice President Yilmaz and Finance Minister Simsek, signalling a change to a more conventional approach to economic policy. This shift away from the unconventional policies of prior years, which were a factor in rising inflation, currency depreciation, and diminished foreign exchange reserves, attempts to stabilise the economy and draw in foreign investment. The anticipated investments from the Gulf area will be a critical test of Turkey's new economic strategy.
Turkey has great assets for investment, but in order for Gulf states to participate fully, it must make sure that commercial sense prevails.  It is believed that in order to promote investment and money flows, traditional policies must be implemented. Under the direction of Governor Hafize Gaye Erkan, the central bank is anticipated to significantly hike interest rates, which will be essential to establishing stability and luring in international investment. Turkey seeks to regain investor confidence by implementing measures towards free-market policies and better regulations.
Turkey has negotiated agreements with the UAE and other countries for currency swaps worth $28 billion in recent years. An example of prior profitable energy industry investments is Abu Dhabi's International Holding Co.'s $490 million purchase of a 50% share in Turkey's Kalyon Enerji. Both Gulf nations have a chance to take advantage of Turkey's assets and support its economic growth as it pursues additional defence and energy investments.
Also Read – Egypt and Turkey Announce Diplomatic Relations Amidst Rapprochement
Turkey's anticipation of Saudi Arabian and United Arab Emirates investments in its energy and defence industries is a significant milestone in its efforts to forge stronger diplomatic ties and draw in foreign capital. Turkey seeks to stabilise its economy and increase its capacity for strategic action by switching to a more conventional economic policy and participating in high-level negotiations. It provides a glimmer of hope for Turkey's struggling economy and presents Saudi Arabia and the UAE with a chance to take advantage of Turkey's profitable industries. The result of these negotiations will be extremely important in determining Turkey's economic course in the upcoming years.