UN Expresses Sadness Over 'Horrific' Fire in Johannesburg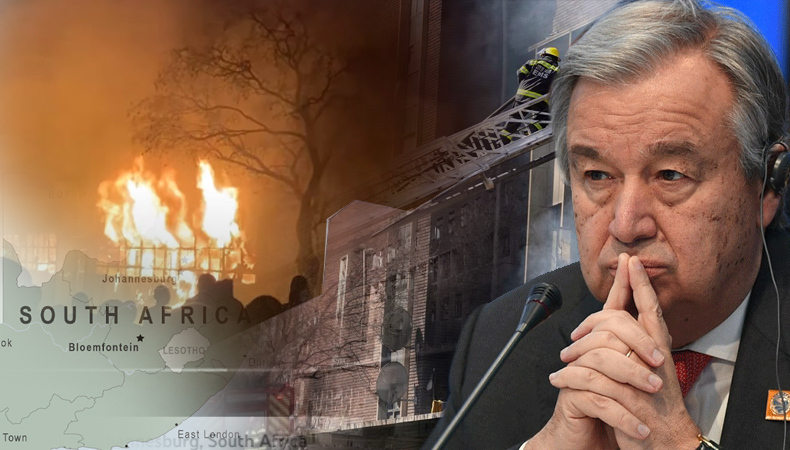 UN Secretary-General Antonio Guterres expressed deep sadness over a deadly building fire in a five-story Johannesburg apartment building that left at least 74 people, including 12 children, dead on Thursday. The horrific fire left the building gutted. 
Stephane Dujarric, Guterres' spokesman, said the UN Secretary-General is deeply saddened by the news of the fire that reportedly claimed the lives of more than 70 people on 31 August in Johannesburg, South Africa.
"In this moment of great sadness and grief, he conveys his sincere condolences to the families of the victims and to the Government and people of South Africa. He wishes a prompt recovery to the injured." The UN Country Team in South Africa is ready to work with the South African authorities to provide assistance to those affected, and to prevent further incidents of this nature.
The fire left more than 50 people injured. Emergency services officials warned the death toll could rise as they continued to search the scene more than 12 hours later. They said many bodies were burned beyond recognition. 
Keep Reading
Mgcini Tshwaku, a local government official, said initial evidence suggests the fire started with a candle. However, authorities have not established the cause of the fire. Tshwaku highlighted that inhabitants of the building used candles and fires for light and to keep warm in the cold winter. A person who managed to escape from the building fire said the fire started during a power cut, which triggered a bunch of gunshot-like sounds followed by a massive explosion.
It should be noted that many buildings in Johannesburg have been abandoned by the owners or the city authorities. But it's full of families. And the families pay run to criminal gangs who run these buildings.
Sources say fires are common in these types of buildings, but there have no such incident like the August 31. People cook on paraffin stoves and during the cold winter months, they light fires in large metal drums with wood and other scavenged items thrown in for fuel. Moreover, candles are used and illegal electricity connections rigged to provide power for the inhabitants, posing a fire hazard.