Under French pressure, Lebanon attempts to implement reforms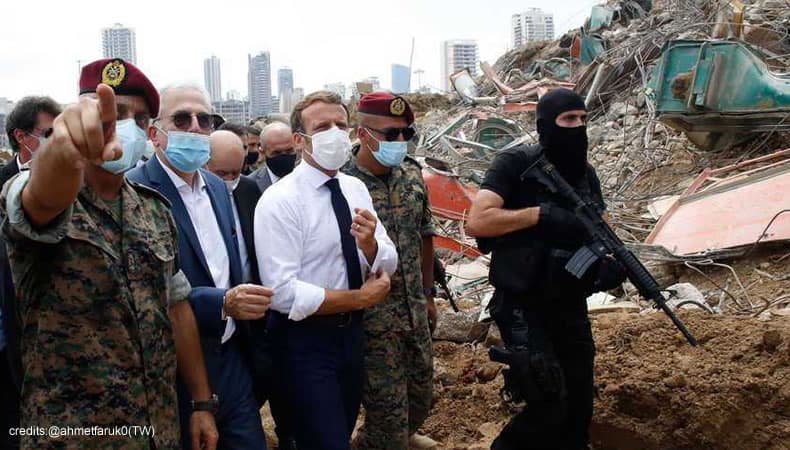 Lebanon has been facing major political and economic crisis in the aftermath of a massive explosion at Beirut port that took place on August 4. At a time when the country has been struggling to contain COVID-19 infections, PM Hassan Diab and his entire cabinet resigned on August 10 due to popular outrage against the administration over the deadly explosion.
Extending support to the crisis-hit country, French President Emmanuel Macron visited Beirut earlier this month and met an array of government representatives. During his second visit, Macron, reportedly, presented the Lebanese politicians with a road map for significant political and financial reforms, asking them to implement the changes for the welfare of the country.
His "draft program" for the new government consisted of reforms to deal with prevailing crisis including Coronavirus, rebuilding the port, investigating the Beirut port explosion, and renewing relations with the International Monetary Fund (IMF).As per media reports, Macron has warned of targeted sanctions over the administration if the Lebanese ruling class fails to bring real change in the country in the next three months, promising to return to Lebanon in December to review the reform process."If your political class fails, then we will not come to Lebanon's aid," he said.
Notedly, authorities named Lebanon's ambassador to Germany, Mustapha Adib, as the new prime minister, a day ahead of the French President's second visit to Beirut. They met another key demand by Macron and launched a forensic audit into the country's central bank to investigate misuse of billions of dollars.Evidently, during both his visits, the French President came bearing a message and a strong push for change in the Lebanese administration.
Governed by an elite ruling class administration for decades, Lebanon has been crippled by massive economic crisis, causing prominent businesses to close shop and soaring prices of basic commodities. Damage from the Beirut blast, estimated at $8 billion, has further intensified the problems for the government.|
Meanwhile, the country is facing hurdles in delivery a new cabinet next week as promised by the leaders to French President Macron. Delays in meeting the promises can result in termination of French support aimed at bringing Lebanon out of its deepest crisis since its 1975-90 civil war.