Al Sadr Loyalists Asked to Vacate Parliament But Not The Green Zone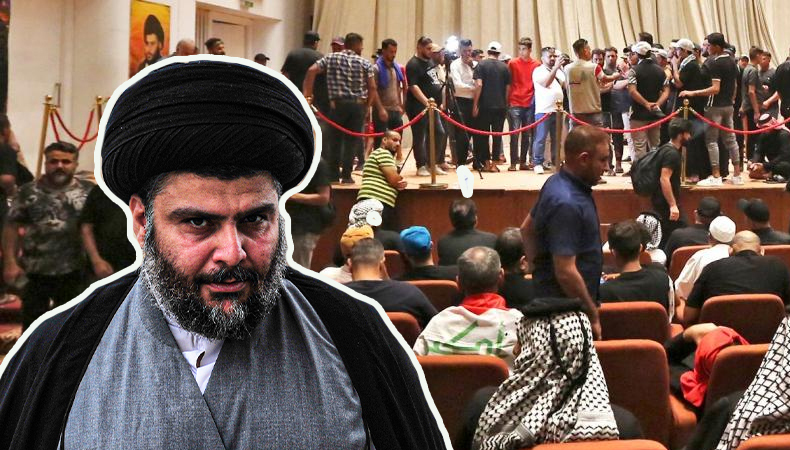 Iraq–The high security Green Zone doesn't seem that well protected after all. After repeatedly being invaded by the supporters of the Iraqi cleric Moqtada Sadr, they have asked to retreat from the premises.
In an attempt to de-escalate the build-up, a representative of cleric Muqtada al-Sadr communicated the intentions through a tweet telling the hundreds of loyalists to leave the parliament building. The followers had literally been camping inside the parliament close to four days.
They were told to move their protest outside its premises but to remain inside the Green Zone, which houses Iraq's government buildings and foreign embassies. The sit-in was in its fourth day Tuesday.
Despite Al- Sadr having won the elections, he could not form a stable government as there was a loss of political majority. The efforts have come to a knot's end and as of now, his followers seem to be going out of their way to garner support for his legitimacy.
Related Posts
On Saturday, it seems, on his behest, his followers had stormed into the Parliament to prevent the Iran-backed Coordination Framework alliance from voting in a new government after naming Mohamed Al-Sudani as candidate for prime minister.
Sudani is a Iran backed candidate, and the few handful of democratic loyalists are trying to save the country in whichever way possible from going to the dungeons.
Al-Sadr's "vizier," or high-ranking political adviser, is known on Twitter as Salah Mohamed a-Iraqi. He instructed the protesters not to leave until their demands were met. Al-Iraqi's true identity is not known and many speculate it is Al-Sadr himself. By moving the protest camp to another area of the Green Zone, Al-Sadr keeps open the possibility of a drawn-out sit-in. Shiite officials said Monday the Framework had offered Al-Sadr a proposal to withdraw from the parliament building. In return, the parliament building would remain closed to lawmakers.