UN chief: World is one step from 'nuclear annihilation'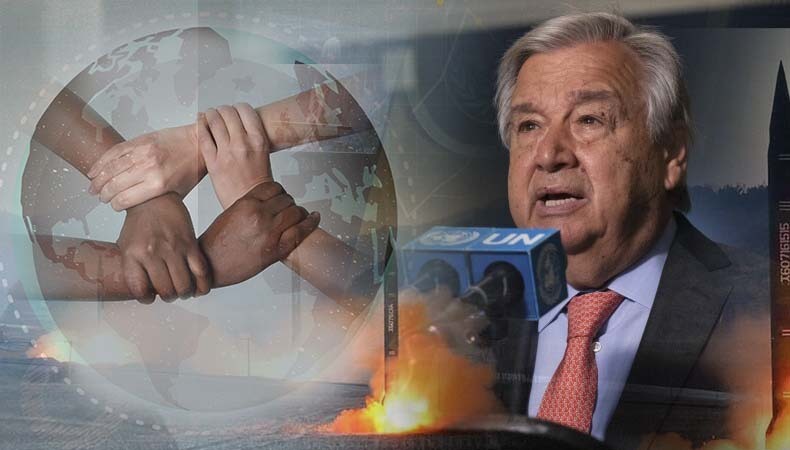 Humanity is "only one misunderstanding, one miscalculation away from nuclear devastation," the head of the UN said on Monday, citing the conflict in the Ukraine, nuclear threats in Asia and the Middle East, among other things.
At the start of the long-delayed high-level meeting to review the historic 50-year-old pact intended to stop the spread of nuclear weapons and eventually lead to a nuclear-free world, Secretary-General Antonio Guterres issued the stark warning.
The United States, Japan, Germany, the UN nuclear head, and many other opening speakers at the meeting to review progress and agree on subsequent steps to implement the Nuclear Nonproliferation Treaty, widely known as the NPT, underlined the concern of growing nuclear threats and a nuclear disaster.
According to US Secretary of State Antony Blinken, Russia is "engaging in reckless, dangerous nuclear saber-rattling" in Ukraine, North Korea is preparing to conduct its seventh nuclear test, Iran "has either been unwilling or unable" to accept a deal to return to the 2015 nuclear agreement aimed at reining in its nuclear programme, and North Korea is about to conduct its seventh nuclear test.
Related Posts
In order to emphasise that his nation is "one of the most potent nuclear powers," he referenced Russian President Vladimir Putin's warning that any attempt to interfere would result in "consequences you have never seen" after its invasion on February 24.
According to Blinken, this is in violation of the guarantees of Ukraine's sovereignty and independence made when it gave up its nuclear weapons from the Soviet Union in 1994 and sends "the worst possible message" to any nation that believes it needs nuclear weapons to defend itself and deter aggression.
Fumio Kishida, the prime minister of Japan, noted that since the previous review conference in 2015—which came to an end without producing a consensus document—differences in the world have grown. He emphasised that Russia's threat to use nuclear weapons in the Ukraine war has added to "global concern that yet another catastrophe by nuclear weapon use is a real possibility."
Foreign Minister of Germany Annalena Baerbock charged Moscow with "brutally breaking the pledges" it made Ukraine in 1994 and claimed that Moscow's "reckless nuclear language" after its invasion of its smaller neighbour "is undermining everything the NPT has accomplished in five decades."
Most recently, Blinken claimed that Russia had taken control of Europe's largest nuclear power plant in Zaporizhzhya and was using it as a military base from which to launch missiles at Ukrainians, "knowing that they can't and won't shoot back because they might accidentally strike a nuclear reactor or highly radioactive waste in storage." According to him, this elevates the idea of using a human shield to an absolutely horrible level.
The war in Ukraine, according to IAEA Director General Rafael Grossi, is "so serious that the prospect of a potential nuclear confrontation, or accident, has risen its terrible head once more."
He urged all nations to assist in making possible his visit to the plant with a team of IAEA safety and security experts, saying his efforts for the past two months have been unsuccessful. He warned that at the Zaporizhzhya nuclear plant, "the situation is becoming more perilous by the day."
The month-long review conference is taking place "during a time of nuclear threat not witnessed since the height of the Cold War," Guterres said to the large group of ministers, officials, and diplomats gathered in the General Assembly Hall.