Argentina's Far-Right Presidential Frontrunner Wants to Become Jewish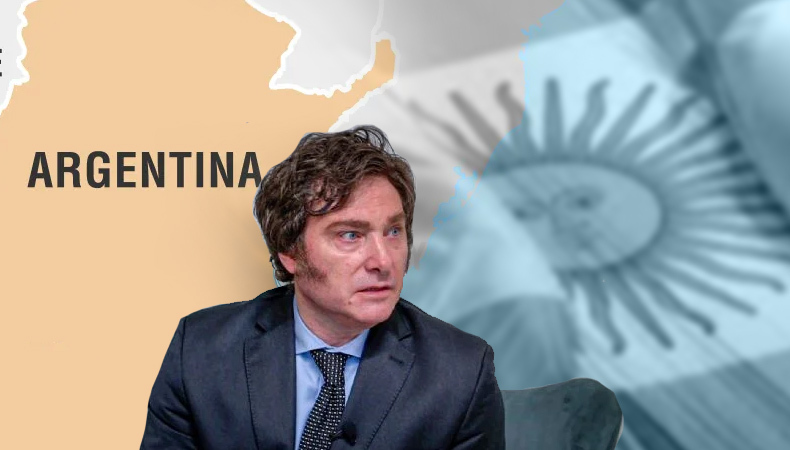 A Jew has never been president of Argentina. But after the general election in October, that idea might become more real.
That's because Javier Milei, a libertarian who wants to convert Argentina's currency to the US dollar and has garnered attention for his controversial remarks on sensitive issues ranging from climate change to sex education, received the most votes in the national primary elections on Sunday.
Javier Milei wants to become a Jew as well.
Milei stated last month in an interview with Spain's El Pais that he is thinking about converting. Shabbat observance is one of the challenges in the way.
What would I do if I were president and it was Shabbat? Do I intend to leave the country on Friday and Saturday? Some problems would render [the religion] incompatible. I should read the Torah from the perspective of economic analysis, the rabbi who assists me in my studies, he said.
Milei, a 52-year-old economist who was brought up Catholic and is the leader of the La Libertad Avanza (Freedom Advances) party, which has been around for two years, regularly studies Jewish subjects with Rabbi Shimon Axel Wahnish, the head of the Argentine-Moroccan Jewish community ACILBA, based in Buenos Aires.
In an interview with the Buenos Aires-based Jewish radio station Radio Jai, Milei described him as a close friend and frequent advisor. These are the kinds of conversations that, on occasion, can last for two or three hours, but which, for me, are incredibly rewarding because they help me learn a lot and comprehend things much more deeply.
Little about Milei's persona, political beliefs, and electoral success is unexpected. According to polls, the unkempt politician with long sideburns won 30% of the primary vote, beating out both the main conservative opposition group and the ruling left-wing Peronist party.
Keep Reading
In Argentina, primary elections are required for most adults, making them a reliable predictor of upcoming general elections.
The terms "far right," "libertarian," and "anarcho-capitalist" are frequently used to describe Milei. He cites the establishment's problems with corruption as evidence that they are to blame for the nation's high rates of inflation and poverty. He promises to abolish Argentina's central bank and drastically reduce government spending if elected.
In addition to calling climate change a "socialist lie," he has also argued that the free market should determine organ donation policies and that sex education is a plot to undermine traditional family values. (He was formerly a tantric sex trainer.)
Milei frequently quotes verses from the Torah when speaking in public. A recording of a shofar, the ram's horn blown on Rosh Hashanah, played as he entered the stage for a campaign event at an arena in Buenos Aires earlier this month.
He has been to the Holocaust Museum in Buenos Aires, and in July of last year, he travelled to New York and paid a visit to the grave of the influential former spiritual leader of the Chabad-Lubavitch movement, the Lubavitcher Rebbe Menachem Mendel Schneerson.
Milei and his running mate for president, Victoria Villaruel, were the only two lawmakers in Argentina to vote against a bill designating July 18, the anniversary of the bombing of the AMIA Jewish centre in 1994, as a national day of mourning. At this year's commemoration ceremony for the incident that claimed 85 lives, a group of victims' families yelled at Milei.
Milei attempted to change his vote following harsh criticism, but the Chamber of Deputies' president rejected his request.
Milei is a fervent supporter of Israel and has stated that the US and Israel are his two greatest allies. According to local news source La Nacion, if elected, he has promised to relocate the Argentine embassy from Tel Aviv to Jerusalem and travel there on his first foreign trip as president to further his study of the Torah, Talmud, and other Jewish texts.
Additionally, Milei owns a number of mastiffs, two of which bear the names of Jewish economists: Milton, after Nobel Prize winner Milton Friedman, and Murray, after Murray Rothbard, who is frequently referred to as the father of anarcho-capitalism and is an advocate for stateless societies.