Biden Tells Israel to Back Off Gaza, Reiterates Two-State Solution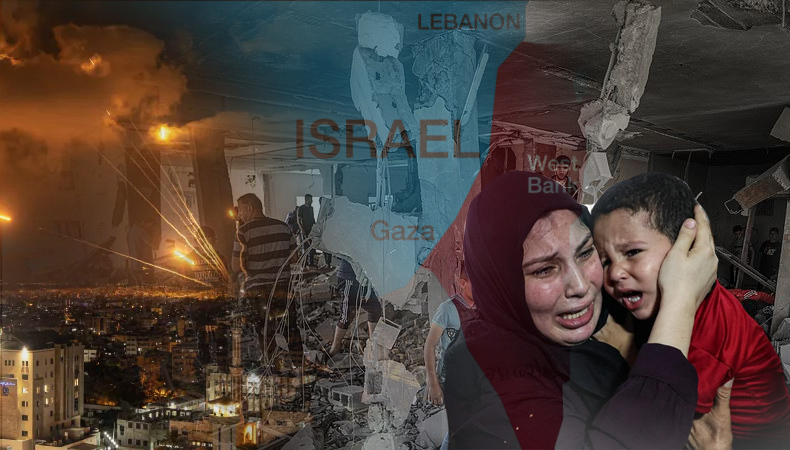 Alarmed at the worsening humanitarian disaster in Gaza, US President Joe Biden acknowledged that Hamas doesn't represent all the Palestinian people. Reiterating the two-state solution for Israel-Palestine conflict, he said any move by Israel to occupy the Gaza Strip again would be a big mistake.
Since October 7, after Hamas launched its Operation Al-Aqsa Flood, at least 2,670 people and counting have been killed in Gaza and about 1,300 Israelis. Israel Defense Forces (IDF) continues heavy bombardment of Gaza, and has cut water and electricity to the territory, forcing millions of Palestinians to flee.
There's a bloodbath in Gaza, as Israel exacts revenge, unleashing punishment on millions of Palestinians for Hamas attack.
Biden Believes Taking Out Extremists is Necessary
President Biden believes Hamas and the extreme elements of Hamas do not represent all the Palestinian people. "But invading and taking out extremists is a necessary requirement. There needs to be a Palestinian authority. There needs to be a path to a Palestinian state." Biden expressed confidence that Israel will act under the rules of war. "I'm confident that there's going to be an ability for the innocents in Gaza to have access to medicine and food and water."
In regards to US troops joining the Israel-Hamas war, Biden said it's not necessary. He believes Israel has one of the finest fighting forces in the country. "I guarantee we're gonna provide them everything they need."
Meanwhile, the US has sent its warships, USS Gerald R Ford aircraft carrier, a missile cruiser and four missile destroyers, in the region. US Defense Secretary Lloyd Austin announced a second aircraft carrier group, Dwight Eisenhower, late Saturday. He said the American warships will deter any state or non-state actor seeking to escalate the war.
The US has also urged Israel to hold off its ground offensive to allow humanitarian efforts for Gaza's residents.
Keep Reading
US Warns Iran Amid Raisi's Phone Call to Saudi Crown Prince
Waving Palestinian Flag in UK is Now An Offense
Israel Doesn't Want Gaza
Meanwhile, Israeli diplomats say Israel doesn't want to occupy Gaza. Israel took over Gaza Strip in 1967 during the Six Day War, and left in 2005. But in 2006, Israel imposed an air, land and sea blockage on the territory because of rocket fire. A power struggle became evident when Hamas won the 2006 Palestinian legislative elections, followed by an open conflict between Hamas and Fatah in 2007.
Gilad Erdan, Israel's UN ambassador, said Israel has no interest to occupy Gaza. "But since we are fighting for our survival and the only way, as Biden himself defined, is to obliterate Hamas, we will have do whatever is needed to obliterate their capabilities." Michael Herzog, Israel's ambassador to the US, also said the same – we have no desire to control the lives of over two million Palestinian.