Demonstrations in Algeria against early legislative elections called by president Tebboune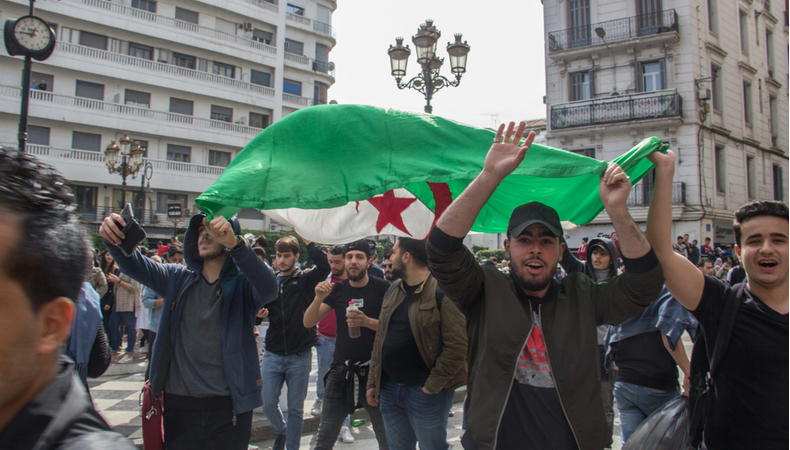 Dozens of students demonstrated in the Algerian capital Tuesday as part of their weekly march to renew the rejection of the early legislative elections called by President Abdelmadjid Tebboune. The students who took to the streets also expressed their solidarity with the wanted people after the Tebboune regime issued an international arrest warrant against them on charges of "terrorism" which are reasons deemed unfounded.
A small number of university students gathered yesterday in Martyrs Square in Algieri, before hundreds of citizens joined them, until they reached Maurice Auden Square in the middle of a security line, while a helicopter flew over the sky of the Algerian capital since the early morning. Despite the strengthened security measures, the protests went on peacefully and no clashes with the police or security agencies were reported.
The protesters chanted slogans against their President Abdelmadjid Tebboune and his plans to hold early legislative national elections after he dissolved the National People's Assembly, the lower house of parliament, in February, in response to one of the movement's demands, as explained by the president himself. During their march, the Algerian students sang: "Leave Majid Tebboune, no to elections! Give power to the people, no elections with the gangs." What sparked anger in Algeria, in recent weeks, was the issuance of an international arrest warrant for four activists residing abroad, on the allegedly unfounded accusation of belonging to a terrorist group.
The wanted are the former UK resident diplomat Muhammad al-Arabi Zaitout, blogger Amir Boukhores, also known as Amir DZ, the journalist and former intelligence officer Hisham Abboud, and Abdullah Muhammad, a gendarme who fled the Algerian air force with the rank of first sergeant. Protesters reiterated, shouting that Zaitout is a politician, not a subversive, and AmirZad is a journalist, not a terrorist.
According to government sources, the two people belong to the Islamic movement "Rashad", banned in Algeria, and the security authorities accuse them of targeting the Nation's stability. Such accusation could lead them to lose their Algerian nationality if a bill proposed by the Minister of Justice Belkacem Zeghmati will be approved, although it has been strongly criticized by civil society and non-governmental organizations operating in Algeria in defense of human rights.
Algeria is witnessing a rapid deterioration of the human rights situation. Since March 2020, at least 200 people have been arbitrarily arrested for expressing their views or allegedly supporting the Hirak movement. According to the national committee for the release of detainees, at least 91 political prisoners were detained as of November 17, 2019, compared to the 44 registered at the end of August, some of whom are in indefinite pre-trial detention. In the context of the COVID-19 pandemic, the United Nations High Commissioner for Human Rights, Michelle Bachelet, called for the release of political prisoners and those who were detained for voicing criticism of the government.