Gallant tells Austin that Iran's Middle Eastern proxies attack Israel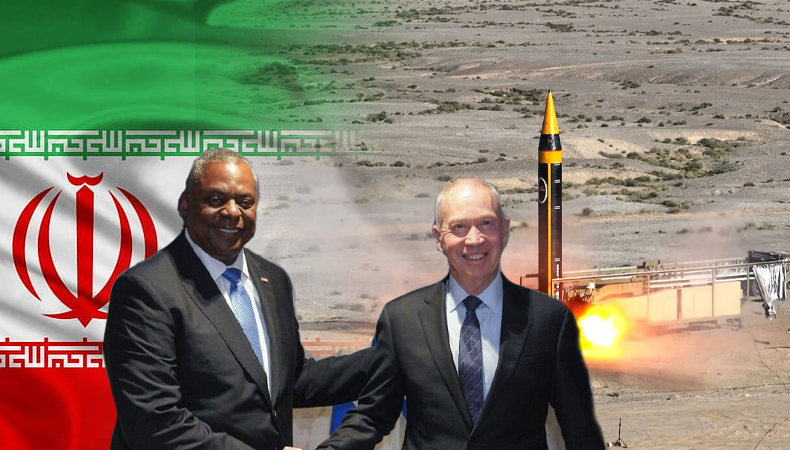 On Thursday night in Brussels, Israeli Defence Minister Yoav Gallant met with US Secretary of Defence Lloyd Austin to discuss Iran and other important US-Israel issues.
Also Read – Israel: Opposition rejects judicial reform negotiations
He stressed Iran's use of proxies in Syria, Lebanon, Gaza, and the West Bank to attack Israel and Israel's right to self-defense.
Gallant met with Netanyahu "and senior defense officials, and reviewed the measures required to ensure Israel's qualitative edge in the Middle East region" before the discussion.
He later thanked Austin for working together to maintain quality. The meeting precedes a small Iranian nuclear deal.
Jerusalem's last chance to influence a Western, US-led partial nuclear deal with Iran is at this meeting.
On Thursday, Gallant said they expanded US-Israeli military exercises. Juniper Oak, the largest joint exercise, took place in January. These are seen as threats to Tehran.
Gallant will meet European Commissioner for Neighbourhood and Enlargement Olivér Várhelyi and Belgian Jewish community leaders and organizations at the Great Synagogue of Brussels.
He will then attend the Le Bourget Airshow in Paris with France, Italy, Hungary, and Romania. Gallant will tour the Israeli national pavilion and speak at the inauguration ceremony at the Defence Ministry's International Defence Cooperation Directorate (SIBAT).
Austin met Gallant in Israel in March. Austin said that while the Biden administration "continues to believe in diplomacy," it would "not allow Iran to acquire a nuclear weapon," adding that America is concerned about the Islamic Republic transferring its drone experience in Ukraine to its proxies in the Middle East.
Austin was likely the first US secretary of defense to express concern about Israeli judicial branch politics publicly.
The US defense secretary addressed US security cooperation and Israel's judicial overhaul policy. Austin was likely the first US secretary of defense to express concern about Israeli judicial branch politics publicly.
"I wanted to be here to make something very clear: America's commitment to Israel's security is ironclad, and it's going to stay that way," Austin said. In his visit to Israel last year, President Biden said, 'The connection between the Israeli people and the American people is bone deep.' US-Israel relations are strategic.
Also Read – Clashes Erupt as Israeli Forces Raid Ramallah in the West Bank
"Our bond goes beyond shared interests. Democracy, freedom, and law underpin it. "Those values are essential," he said.
Austin reiterated Biden's claim that Israel and the US "are both built on strong institutions, on checks and balances, and an independent judiciary."