Groundbreaking: Iran Women Can Watch Football Matches in Stadiums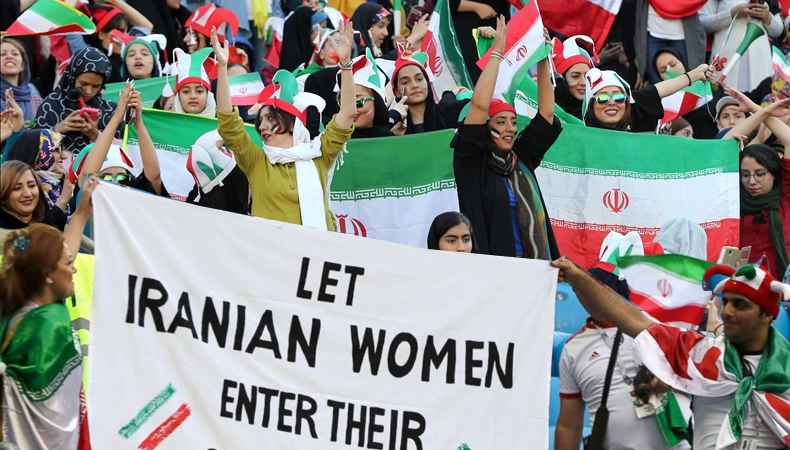 After a hiatus of spanning a little over four decades, women in Iran can attend football matches, especially the football league. 
Also Read – Tehran Set Up Russian-Israelis' Abduction in Iraq to Secure Iranians' Release
Mehdi Taj, the head of Iran's Football Federation, during a live broadcast of the draw ceremony for the upcoming season of Iran's top level football league, said this year would be different. "One of the prominent features of this league is that we will witness the entry of women into stadiums." 
Since the Islamic Revolution of 1979, Iran has barred female spectators from football and other sports stadiums. Islamic clerics believe women must be shielded from the masculine atmosphere and sight of semi-clad male athletes. However, there is no law banning women's participation in sports. 
Taj said some stadiums in major cities like Ahwaz, Isfahan, Kerman are ready to host women. "Women coming or not coming to stadiums is no longer a matter of debate. They can enter stadiums that have 'suitable facilities, such as Gol-Gohar (in Kerman), Sepahan and Zob-e Ahan (in Isfahan Province) and Ghadir (in Ahvaz)." 
This breakthrough follows August 2022, when Iranian women for the first time in years were allowed to attend Iran's 2022 World Cup qualifier against Cambodia at the capital's Azadi Stadium. This was attributed to Open Stadiums, an organization of Iranian women seeking to end discrimination, highlighting that the country was keeping women locked out of their "Beautiful Game". 
In an open letter to FIFA's president Gianni Infantino, Open Stadiums said Iranian women trust neither the Islamic Republic's authorities nor the Iranian Football Federation that the Azadi stadium will remain open to them after the FIFA World Cup 2022 concludes on December 18. It urged FIFA to expel Iran from the World Cup 2022 in Qatar because prohibiting women from games goes against international football rules. 
Also Read – Putin's Response to Wagner Mutiny Highlights Russia's Relationship with Syria and Iran
Iranian women now being allowed to attend major matches at public stadiums across Iran, is turning heads as the country has been embroiled in women's rights protests since September 2022.