Military rivalries haven't take a back seat amidst corona pandemic, Iranian and Russian forces come close to US coast guard ships
On Wednesday, US naval forces accused eleven of Iran's Islamic Revolutionary Guard Corps Navy (IRGCN) vessels of running at high speed and extremely close to US Navy and Coast Guard ships in the Gulf region. The US military condemned the move calling it "dangerous and provocative."
US Fifth Fleet released pictures and videos of small boats moving at high speed and taking sharp turns around six of US vessels which were guarding the Gulf waters. Iranian speed boats came dangerously close to US guard coasts ships including few coming within 50 yards of the [USS Lewis B] Puller, while some within 10 yards of [USCGC] Maui's bow.
The US military in its official statement said, "The IRGCN's dangerous and provocative actions increased the risk of miscalculation and collision, (and) were not in accordance with the internationally recognized Convention on the International Regulations for Preventing Collisions at Sea."
"The US crews issued multiple warnings via bridge-to-bridge radio, five short blasts from the ships' horns and long-range acoustic noise maker devices, but received no response from the IRGCN."
"After approximately one hour, the IRGCN vessels responded to the bridge-to-bridge radio queries, then manoeuvred away from the US ships and opened distance between them," it added.
Iranian authorities haven't commented over the issue. The images of intrusion seemed to be a move to falsify Trump administration's claims to have "restored deterrence" with regard to Iran's actions. Though, it is not the first time both the rivals have faced intrusion. These close interactions became an uncommon trend in 2016 and 2017, but of late the tension between the two escalated after US killed Qassem Soleimani, the head of Iran's elite Quds Force.
In an interview with Fox News, US Secretary of State Mike Pompeo, said: "We've talked as a team. … We're evaluating how best to respond and how best to communicate our displeasure with what … took place."
John Bolton, former National Security Advisor, called Iran's recent stunt in international waters 'unacceptable' and demanded strict action to ensure deterrence. Mr. Bolton took to Twitter, saying: "The repeated dangerous & provocative behavior by Iran's navy against US ships on the Gulf is unacceptable. We have been too lenient in responding to these incidents – that must change. US must not be passive, but act to re-establish deterrence."
Mr. Bolton's suggestion of a non passive response could sound reasonable to many but can the world cannot afford another war while already fighting one? With the world economy gagging over global lockdown and nations losing people to Covid-19, any escalation would prove to be lethal to cash-starved global health care systems.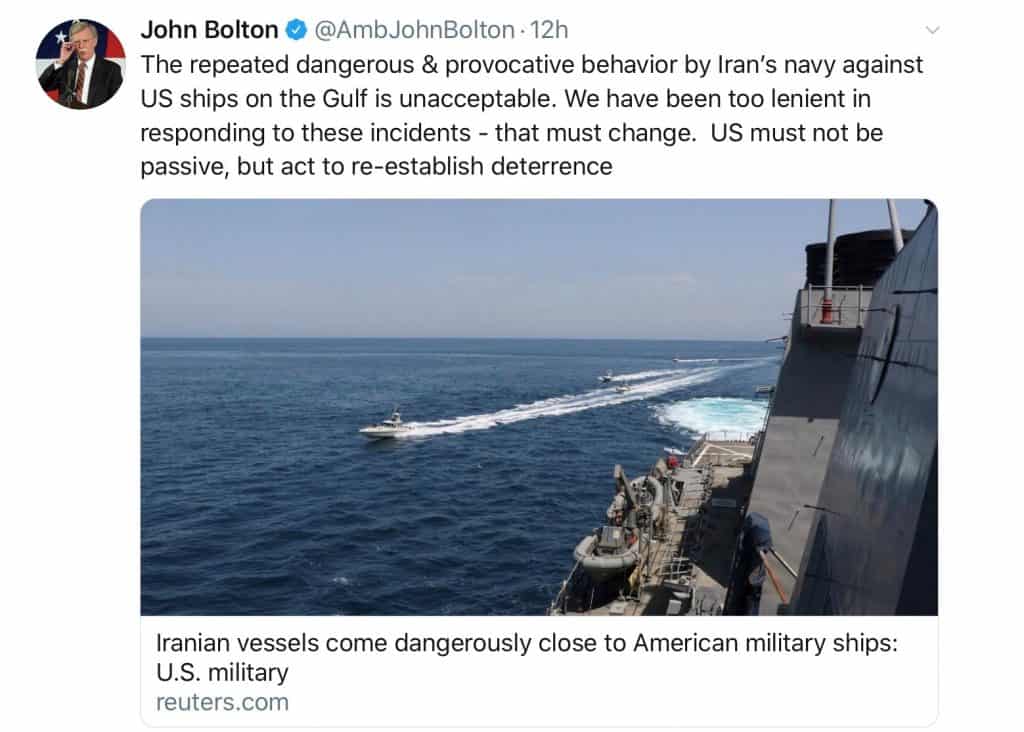 Iran's violation of international waters' protocol came on the same day of a Russian Su-35 jet performing high-speed stunts by flying upside-down just 25ft near a US P-8 surveillance plane. The recent incidents show that despite the ongoing onslaught of deadly novel coronavirus, which has infected over 2 million people all across the globe, military rivalries have not taken a back seat.