No substantial progress in Iran nuclear deal talks risks headway to a precarious void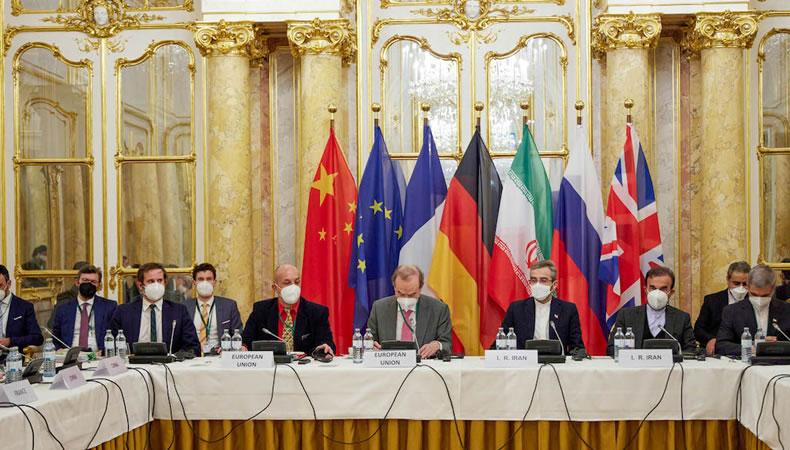 Iran–Vienna talks are heading towards end of six month period that entailed multiple rounds of talks, each concluding with no subsequent result. Still two weeks to go for the Iran nuclear talks to end, but if no success is achieved a precarious void can be left behind.
United States is preparing for political pitch if talks go down the cliff – blaming the disaster on former President Donald Trump for failed talks as he left the agreement in 2018. The Iran Nuclear Deal, JCPOA (Joint Comprehensive Plan of Action) was formed under former US President Barack Obama that put restrain and conditions on Iran's nuclear program in exchange of lifting some sanctions on Tehran. But in 2018, the then president of United States Donald Trump exited the deal and re-imposed sanctions on Iran, and then some more. Furious Tehran bolstered its nuclear program by escalating uranium enrichment. Now it is said to be nearing the required amount of enriched uranium for nuclear weapon construction.
Ned Price, the US state department spokesperson has issued stark warning, "The runway is very, very short – weeks not months." US Secretary of State, Antony Blinken has also given the same time frame but has stressed on faster progress in talks citing advances in Iran's nuclear programme, including levels of enriched uranium at 60 per cent.
Related Posts
One major condition put forward by Tehran is an assurance on paper that US would not exit the deal in future like former President Trump did in 2018. The condition is naturally so intense that Biden administration cannot put a seal on it as it would be an act of tying hands of future administrations. Price said, "There is no such thing as a guarantee in diplomacy and international affairs. We can speak for this administration, but this administration has been very clear that we are prepared to return to full compliance with the JCPOA [Joint Comprehensive Plan of Action] and to stay in full compliance with the JCPOA as long as Iran does the same."
Every day in Vienna's Palais Coborg Hotel, extensive team of negotiators meet in different combinations in order to push the talks ahead. But one thing remains a constant – Iran continues to refuse directly engaging with US negotiators. This has led to a long negotiating pathway through delegations from Europe, Russia and China. Talks resumed on Monday with the UK and Germany represented by new chief negotiators, Stephanie Al-Qaq and Tjorven Bellmann respectively.
Meanwhile, Israel has warned that it is not bound with any agreement, as is completely capable and ready to launch attack on Tehran in case of any further advances in its nuclear programme. But other countries are seeking a peaceful resort and balanced forces in Vienna to reach an amicable agreement.