Palestinians are incensed by Israel's 'desecration' of the Al-Aqsa shrine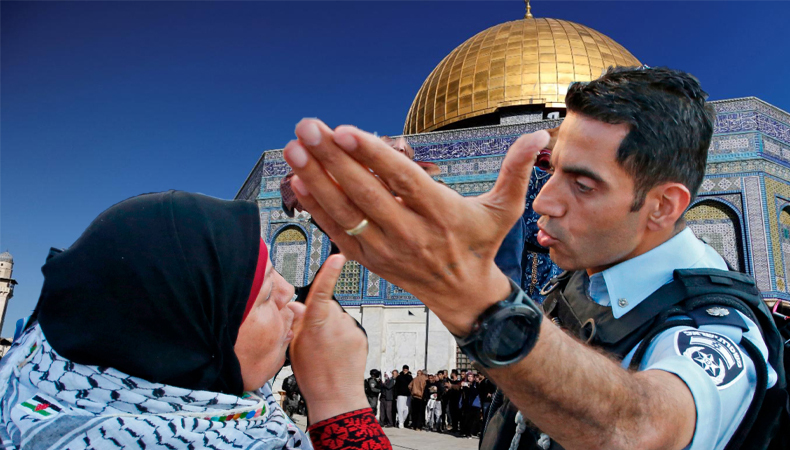 Palestinians have criticized Israeli actions at the Al-Aqsa Mosque's Bab Al-Rahma Chapel, alleging that the structure has been destroyed and that visitors are frequently insulted and threatened.
Bab Al-Rahma is a crucial component of Al-Aqsa, according to Palestinian Prime Minister Mohammed Shtayyeh, and only Muslims have the authority to regulate its operations. Israel must stop taking artifacts out of the chapel and damaging it, he continued.
Extremist settler gangs on Wednesday carried out religious ceremonies and hoisted Israeli flags in the courtyards of Al-Aqsa Mosque, according to Ramzi Khoury, a member of the Palestine Liberation Organization executive committee.
He referred to the Israeli measures as "unprecedented aggression against the sanctity of Al-Aqsa, a desecration of its religious status, and a provocation to Muslims all over the world."
Attacks by Israeli forces on Bab Al-Rahma repeatedly would not grant Israel control over Al-Aqsa Mosque or Jerusalem since "it is an occupied Palestinian city with its Islamic and Christian sanctities," he stressed.
The Palestinian National Council's president, Rawhi Fattouh, pleaded with the international community to put an end to the "criminal madness" of the Israeli government and Itamar Ben-Gvir, the minister of national security.
According to Fattouh, the raids were an egregious violation of houses of worship and an effort to give the dispute a religious undertone, "which would ignite the region and detonate the situation."
According to Osama Al-Qawasmi, a member of the Fatah Revolutionary Council, the "cowardly and provocative attack on Bab Al-Rahma was only a part of the systematic Israeli campaign to Judaize Jerusalem."
Israeli vandalism, according to Nabil Abu Rudeineh, a spokesman for the Palestinian presidency, indicated that the extreme regime was seeking ways to blow things up.
In his words, damaging policies "seek to destroy any regional or global effort to provide stability and prevent the worsening of the situation."
Since the chapel was a crucial part of Al-Aqsa Mosque, Abu Rudeineh claimed that Israel was toying with fire.
Israeli police stormed Bab Al-Rahma on Wednesday for a fourth day in a row in connection with searches in the neighborhood.
Earlier, cops destroyed the chapel's infrastructure and turned off the electricity. After being shut down by Israeli authorities for 16 years, the Gate of Mercy church was finally able to reopen to Palestinians in February 2019.
The Umayyads built Bab Al-Rahma Chapel as a shared entry between the eastern Al-Aqsa Mosque and the Jerusalem Wall some 1,300 years ago.