Saudi Fashion Commission hosts Saudi jewelry and couture labels in Paris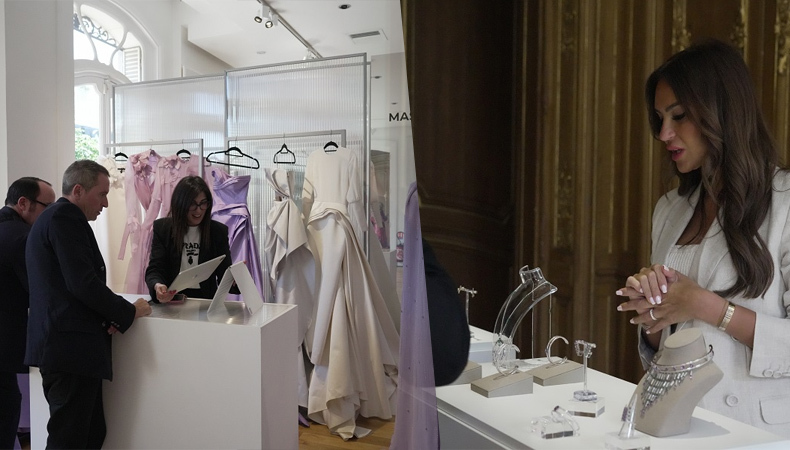 The Saudi Fashion Commission from Riyadh hosted an opening cocktail party ahead of a presentation of Saudi jewelry and couture labels from the Kingdom of Saudi Arabia in Paris, the capital of France. 
Also Read – Robert Hanssen, A Notorious FBI Double Agent- Died
The showcase of Saudi jewelry and couture labels is being held at the headquarters of Paris auction house Artcurial from 3 July to 5 July. The spaces are dedicated to couture, jewelry and fragrance brands. 
Yousef Akbar, Saudi fashion designer, Yataghan Jewelry, an iconic jewelry brand in Jeddah, Rutana Jewelry from Rutana Al-Hassan's board, Najla Almunajem, Saudi fashion designer, Mashael Al-Faris, Riyadh-based brand, Luda Fine Jewelry, one of Saudi 100 Brands to be showcased at Milan Fashion Week, Ashwaq Al-Marshad, Saudi fashion designer, and Adnan Akbar, a Saudi fashion designer described as the "Saint Laurent of the Middle East", participated in the event in Paris. 
Saudi designer Khlood Arab from Luda Jewelry expressed happiness over participating in the event. She told Arab News, "As a cosmetic dentist and jewelry designer, I want to show aspiring Saudi creatives that anything is possible." The designer further said, "Paris is a city of dreams and romance, and Luda Jewelry is very dreamy, sensual and floral. Luda is the world through my eyes."
The Saudi designer lauded the Saudi Fashion Commission for supporting young Saudi designers. Khlood Arab also lauded the Saudi fashion and Saudi designers. 
The Saudi Fashion Commission aims to develop the fashion sector, supporting young designers and practitioners in the fashion field, according to its website.
The major four-day showroom in Paris featured women's, men's and unisex ready-to-wear Saudi brands. Staged inside the central Paris museum, La Cité de l'Architecture et du Patrimoine, the showcase event presented dresses and jewelry that was sourced and manufactured in Saudi Arabia. 
Also Read – International Nurses Day: Why Are Nurses Leaving The Profession?
Burak Çakmak, CEO of the Saudi Fashion Commission, reportedly said, "Saudi fashion brands have already participated in Paris and Milan fashion weeks to showcase their talent on the global stage."