Somalia: African Intelligence Journal has revealed the Turkish-backed candidate in the Upcoming Election.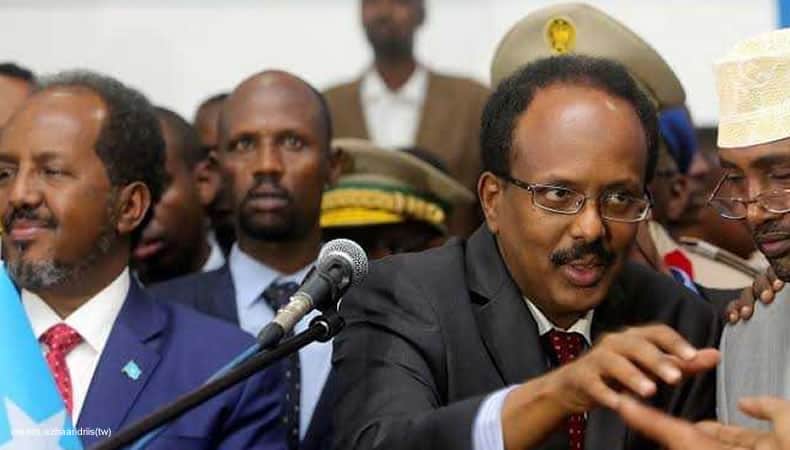 African Intelligence Journal reports that the Turkish government is supporting current Somalia president Mohamed A. Farmajo in the upcoming elections.
The journal writes that President Erdogan, who has a strong influence in Somalia, has been a constant supporter of President Farmajo. He is now ready to continue supporting the current government, which has failed to stabilize the country for four years and has handed over national assets to foreign governments like Turkey and Qatar.
According to the report, Turkey is joined by the Qatari government in supporting Somalia, which was initially responsible for Farmajo's election and has supported him since his 2016 victory. Qatar played a key role in Farmajo's election and is part of the political and security crisis in Somalia as it is being accused supporting terrorist groups in Somalia.
Turkey and Qatar are major political allies in many countries, such as Libya, Yemen, Palestine, and Somalia. Turkey continues to interfere in Somalia's sovereignty while Farmajo has made it a way to legalize Somalia's wealth to foreign Mafia like these countries. It was only last week when Turkish company Albayrak took control of Mogadishu port.
The newspaper added that Turkey's recent support for the Somali government was Turkish support is a testament to that shows how Turkey mafia want to cripple Somali politics and protect its own interests. This international Mafia working hard to bring the current government back to chair.
As long as this government was in power, turkey has been providing assistance to Somalia including military vehicles to Somali army, a large contingent of recent graduates at the Turksom base in Mogadishu, and the renewal of the Turkish contract for Albayrak to operate the Mogadishu port.
However, despite the newspaper's report, Somali scholars believe that Turkey is illegally interfering in Somalia's internal politics and preventing the opposition leaders from gaining support from other regional and international governments. However,Turkey is a pirate who seeks to determine the highest national policy through Farmajo, to gain access to the Somali seas, ports and airports for his own interests.