Erdogan to Visit Kuwait and Qatar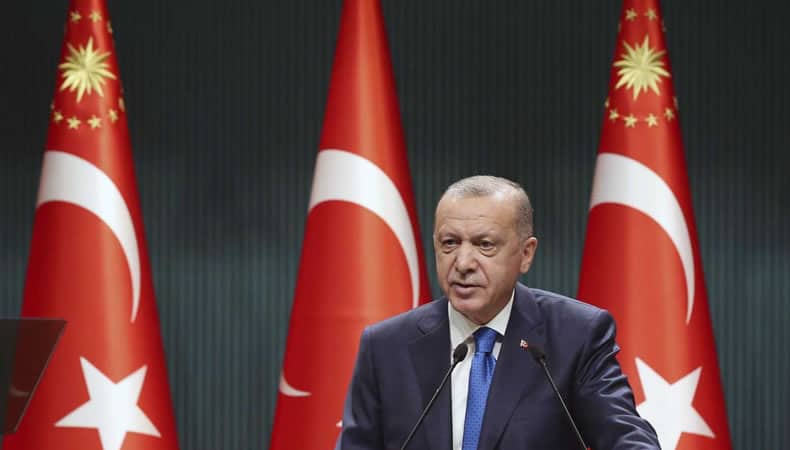 Wednesday, 07, Oct, 2020. According to the Turkish president's office, Erdogan will visit Kuwait and Qatar on Wednesday. He will offer his condolences to the newly-appointed Emir of Kuwait, and then meet with the Emir of Qatar to discuss the ongoing conflict in the region and how to cooperate with.
Turkey, which is fighting a number of warzones and is involved in many conflicts in countries such as Libya, Nagorno-Karabakh, Syria, Somalia, the Mediterranean and others, is seeking friends for political and military support. According to reports, the three will discuss regional opportunities and how to cooperate with the Qatari government, which has been a close ally for some time, and support Turkey financially on his military operations in the region.
As part of his visit to Kuwait, President Erdogan will meet with Emir of Kuwait Sheikh Nawaf al-Ahmad al-Jaber al-Sabah, who took office after the late Emir of Kuwait Sheikh Sabah al-Ahmad al-Jaber al-Sabahto send condolences to the former emir of the country who passed away this month. On all fronts, the two countries will also discuss ways to resolve conflicts in the region, which have already been created by Turkey, Iran and Qatar. Qatar, meanwhile, is helping Turkey financially and has signed a $ 15 billion deal to support Turkey's struggling economy.Qatar also pays for the training that Turkey provides to its mercenaries to deliver warzones.
Qatar has been accused of supporting terrorist groups fighting in Lebanon, Somalia, Pakistan and others. It finances many wars in the region and in North Africa. Turkey and its ally Qatar became very close in 2017 when the Gulf States cut ties with Qatar, and Turkey provided political and military support. Qatar also supports Turkey's plan to invade Libya, fighting General Haftar's forces, in a bid to expand its military presence in the region.
Earlier this year, Qatar's Minister of State for Defense Khalid bin Mohammed al-Atiyya met with Defense Minister HulusiAkar and Libyan Interior Minister FathiBashagha in Ankara to discuss military operations in Liyba and help Turkey's Military operations in the capital Tripoli. The Turkish delegation said it was pleased with Qatar's financial support and support for its military operations in Libya.
Political analysts describe Qatar, Turkey and Iran as troublemakers in the region and disrupting peace in the Middle East, the Horn of Africa, and North Africa. They want to make the region their own in order to achieve their interests, and cripple other Gulf States and the region as a whole.