Syrian Refugees Left Without Accommodation In Torrential Rains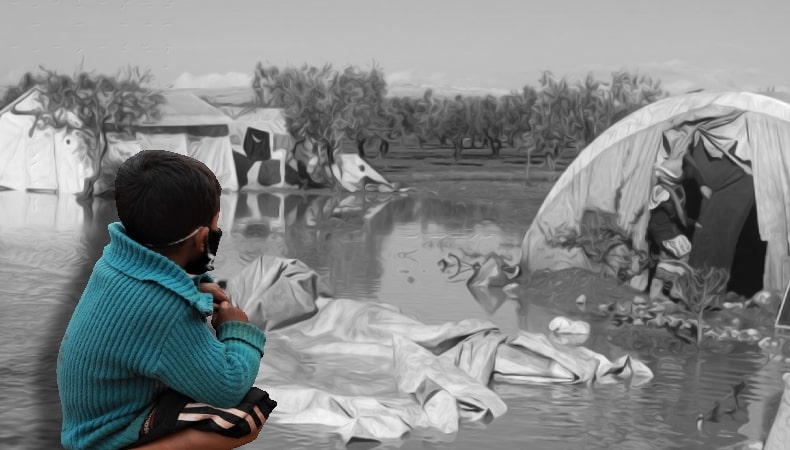 Dramatic change weather conditions have wrecked havoc on Syrian refugees again. As heavy rain, snow and wind hit the makeshift tent like living arrangements; more than 20,000 refugees had to evacuate their flooding tents.The situation is the same in more than 80 such sites across Syrian border.
According to Aid agency Care camps have actually turned into "lakes" sites in northern Idlib and western Aleppo provinces. What complicate matters is the fact that both sites are being held by opposition forces. Survival has become a peril again as people seek shelter in open sites or dilapidated buildings. Some have reportedly lost their lives at the hand of sub normal temperatures.
In a decade of civil war and fighting, more than 12 million Syrians have fled their homes. The main protagonist in the starting of the uprising was previous President Bashar al-Assad. In the process, some 6.6 million were internally displaced, while 5.6 million have sought refuge abroad. Of the surviving lot, almost 80 percent refugees comprise women and children alone. Most are malnutrition(ed) or suffering from some or the other illness, making it tougher for them to ensure the harsh weather conditions.
Further, the dire flooding conditions could exasperate the cases of infection of Covid-19.Humanitarian organizations are finding it difficult to get aid across to the needing as access roads seemed to have disappeared in floods. The evident reason for this is that most tents were raised in agriculturally fit land that tends to be more porous, not fit for erecting any livable structures. Further, make-do structures are also collapsing as water seeps into them and the ground, making it difficult for structures to remain intact. A few casualties resulted due to the collapse of walls and like structures in the last few weeks too.
Currently, the Syria Civil Defence, as first responders are continuing emergency operations despite the rainstorm ending. Also known as the White Helmets, they are now providing services and assistance to more than 3200 affected families in more than 225 camps. Syria has been suffering due to civil war conditions since 2010. Despite repeatedly efforts by the UN, foreign powers continued to feed in the warring factions with arms and ammunition. Over the Covid-19 pandemic situation, the war like mercenary attitude has calmed down, but the wrath of selfish gain continues to rain on the common man, making their survival next to impossible.