Tyson Fury Wins With Scores, Francis Ngannou Far Better Boxer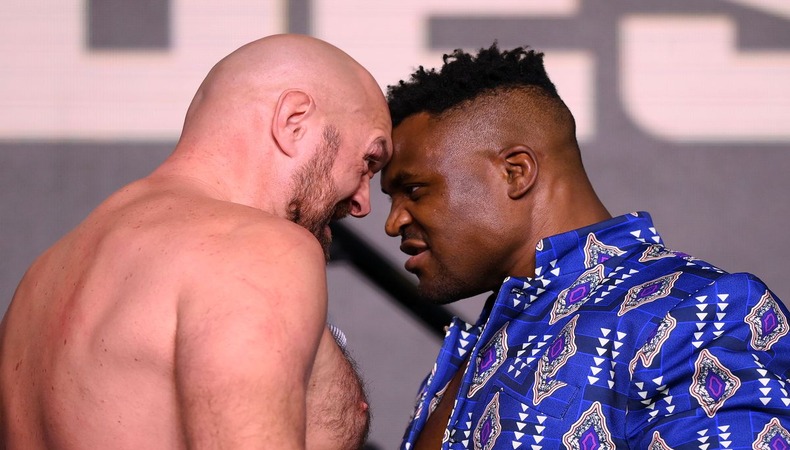 Initially, it looked Tyson Fury would fall out to Francis Ngannou's powerful punches but the latter failed to maintain consistency. But the WBC heavyweight champion reigned with better boxing moves in each round, and won on scorecards.
Ngannou landed only six of 38 punches in the final two rounds, compared to 14 of 37 for Fury. The Briton remained undefeated at 34-0-1 with 24 knockouts.
This was Francis Ngannou's, a former UFC heavyweight champion, debut and he showed his potential with some fiery punches. Fury added more punches to his kitty, but Ngannou struck out with more power shots.
Fury commended the 37-year-old saying that definitely wasn't in the script. "Francis is a hell of a fighter, stronger, big puncher and a lot better boxer than we all thought he would ever be."
Tyson Fury: 'Expect the Unexpected'
Before the match, Tyson Fury was all devilish. He was not mincing his words in the dressing room in Riyadh. "I know boxing like Mr Kipling knows cakes!"
But the professional boxer was quick to say that anything was possible in heavyweight boxing. "So expect the unexpected. I could get chinned out here and then I go: 'Ha ha! Idiot. Best thing for you. Didn't see it coming. Should have been more focused, whatever'. You can never write off any heavyweight. But if I had to fight a 6ft 9in switch-hitter who weighs 20 stone and can punch, counterpunch, get on the back foot, move, dance, I would think: 'How do you beat this man?'"
The spectators roared in surprise when Ngannou dropped Fury on the floor in round three with a left hook. Fury said the Cameroon-French opponent gave him one of his toughest fights of the last 10 years. He wants to fight Ngannou again.
Keep Reading
Conor McGregor applauds Saudi Arabia UFC Fight Night March 2024
Freaks of Nature Episode 5: Where Art, Music, and Querencia Collide in Riyadh
Ngannou Scaled Challenges
The former UFC fighter has come a long way. Ngannou revealed that he has climbed a lot of mountains in his life. He experienced poverty as a child in Cameroon, worked as a young boy in a quarry, was jailed as an illegal immigrant in Paris. But the determined man that he is, he didn't let this stop him from achieving his dream.
Ngannou carved out a life for himself as a mixed martial artist and became a dominant heavyweight in the UFC.