A Road to Makkah deal is signed by a Saudi minister in Pakistan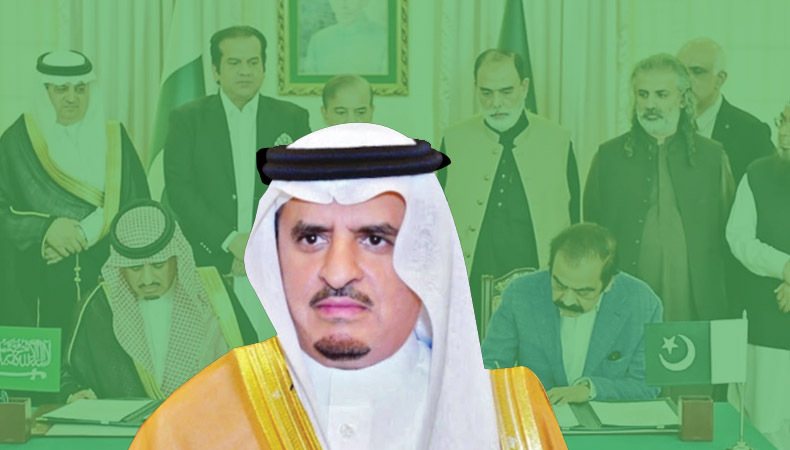 Dr. Nasser Al-Dawood, the deputy interior minister of Saudi Arabia, signed the agreement on the Road to Makkah project on Wednesday at the residence of the prime minister of Pakistan, opening the door for Pakistanis to gain from a program designed to make the Hajj easier for pilgrims from all across the Muslim world.
Also read – Saudi citizen arrested for aiding illegal entry of a non-Muslim journalist in Makkah
The Kingdom of Saudi Arabia's Guests of God Service Program, which King Salman launched in 2019 as part of the Kingdom's Vision 2030 to diversify the economy, includes the Road to Makkah program. According to the plan, Hajj pilgrims go through immigration procedures at the airports of their home nations.
"This initiative would provide benefits to almost 26,000 Pakistanis via Islamabad Airport. Travelers will be able to quickly go to their lodging in Saudi Arabia since Saudi immigration and customs will be handled at Islamabad Airport, according to Mohammed Umer Butt, a spokesman for the Religious Affairs Ministry, who spoke to Arab News.
According to Butt, the government is "striving" to extend this facility to other Pakistani cities in the upcoming years.
Al-Dawood is in Pakistan for a two-day visit and has met with the army chief, the interior minister, the federal minister for drug control, and prime minister Shehbaz Sharif.
The Saudi official spoke in-depth with Sen. Talha Mahmood, Pakistan's Minister of Religious Affairs, on the Hajj arrangements after his arrival in Islamabad on Tuesday.
In a statement released following their meeting, it was stated that "they exchanged views on various matters of mutual interest, including the (Road to Makkah) project, arrangements for the Hajj, and other areas of cooperation."
Tuesday night, Al-Dawood and members of his team met with Rana Sanaullah Khan, the interior minister of Pakistan, and other cabinet members at a dinner event hosted by the Saudi ambassador, Nawaf bin Said Al-Malki.
Saudi Arabia removed the age restriction of 65 and reinstated Pakistan's pre-pandemic Hajj quota of 179,210 pilgrims earlier this year.
Authorities predict that around 91,000 Pakistani pilgrims would employ private tour operators this year, compared to 80,000 who will participate in the Hajj through the government's program.
Also Read – Thakher Makkah prepares to welcome pilgrims and tourists
According to the Pakistani Religious Affairs Ministry, Hajj flights from the nation will start on May 21 and end on June 21 with a trip to Saudi Arabia.