Another blast occurred in southern Lebanon because Hezbollah technical error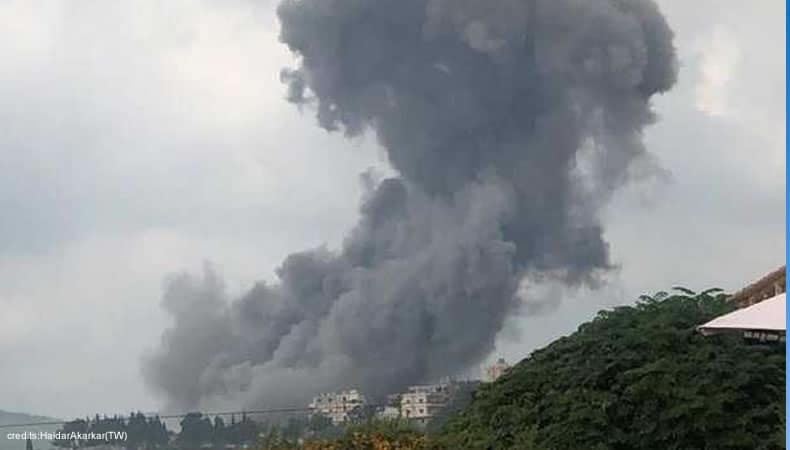 Another explosion in took place in Lebanon, this time in the south of the country. The blast involved a building near Ain Qana, probably a site used by Hezbollah Shiite guerrillas. The causes are still confused. According to preliminary investigations, the accident is related to a technical error inside a weapons depot. Maybe mines and ammunition.
The al-Manar television station run by Lebanon's Hezbollah said the cause of an explosion in southern Lebanon on Tuesday was not yet clear. But local testimonies have linked the episode to the overflight of hunting, probably Israelis. There was also no shortage of hypotheses of a raid to hit a high exponent of the faction, a scenario, however, denied by other sources.
Hezbollah imposed a security cordon around the explosion area, barring reporters from reaching it.Footage broadcast by the local Al Jadeed station showed damage to buildings and debris scattered across a large area.The shaky footage also showed what appeared to be a minibus on fire. Other footage showed a wrecked SUV parked outside a hurt house.
A good part of the southern region hides missile positions, bunkers, arsenals of the pro-Iranian militia. They have built them over time, well camouflaged, often near inhabited centers. A network that represents the spearhead of a device in a double key, offensive and defensive in the clash with Israel. In the past, Jerusalem has targeted targets linked to the opposing war device.The story follows the Beirut disaster in the early days of August with enormous damage caused by tons of ammonium nitrate kept, without any security measures, in a port hangar.
The explosion killed nearly 200 people, injured 6,500 and damaged tens of thousands of buildings in the capital, Beirut.The official thesis has favored at the moment the version of neglect and corruption, with the mixture triggered by fireworks and fuel housed near a highly unstable substance.
The militant group Hezbollah, designed as terrorist by United States and EU has stored chemicals that can be used to make explosives in several locations in Lebanon but also in several European countries, according to a senior US State Department official. Nathan Saleswarned Thursday that Hezbollah operatives have moved ammonium nitrate from Belgium to France, Greece, Italy, Spain and Switzerland in recent years and are suspected to still be storing the material throughout Europe.
The US coordinator for counter-terrorism appealed to countries in Europe and elsewhere to impose bans on the organization.Ammonium nitrate is a chemical complexusually used as a fertiliser, but it can be used to build explosives. It can also be dangerous in storage, as demonstrated by the huge recent explosions.