Dozens of anti-coup protestors killed by Myanmar forces as clashes intensify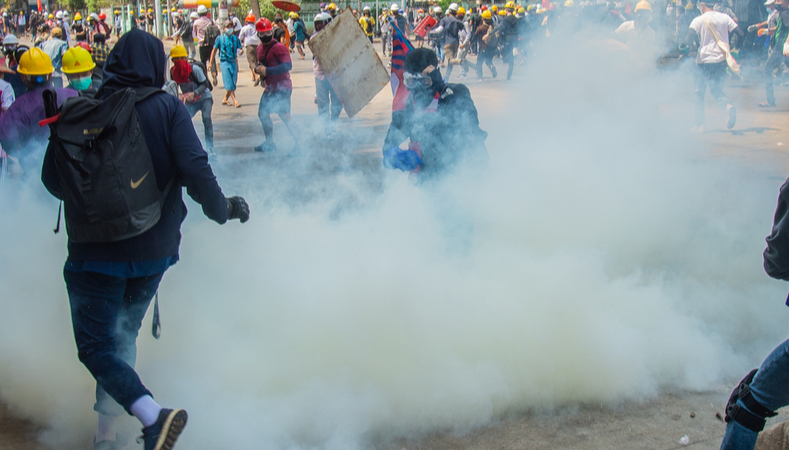 The latest crackdown on the anti-coup movement resulted in the killing of at least 38 protesters across Myanmar, an advocacy group said, late Sunday evening.
The armed forces seized power on February 1 and martial law was declared over two areas of Yangon as Chinese factories were set to fire. Amongst the dead was a police officer too that made Sunday as one of the deadliest day ever since mass demonstrations began against the coup nearly six weeks ago.
So far, a total of 126 people have been killed as violent and arbitrary crackdowns have intensified, the Assistance Association for Political Prisoners (AAPP) said. It also warned that the casualties were to increase drastically. It added that number of people arrested were more than 2,150 people.
Sunday saw plumes of smoke rising over the Hlaing Thar Yar township of Yangon, Myanmar's biggest city. Two Chinese factories were also set ablaze and protestors were opened fired upon by the security forces.
According to AAPP, nearly 22 civilians were killed and nearly 20 were left wounded amongst which three were in critical condition. As per the details released in the press, China's embassy in Myanmar claimed that Chinese staff were trapped and injured with their factories looted and set ablaze by unidentified attackers.
Throughout the day, it was reported that residents were hiding in their homes, hearing gunfire, while military trucks were speeding through Hlaing Thar Yar's streets. This area is home to people who travel from various parts of Myanmar for work. Human rights groups, across the world, have renewed their call for sanctions against the military leaders and their businesses.
Deputy Asia director at Human Rights Watch, on Monday, said in a statement that "the longer a strong action takes to come from the global fraternity, the longer will Myanmar's generals that they won't have to answer for murders,"