Egypt and Djibouti leaders meet to discuss ties and the Ethiopian dam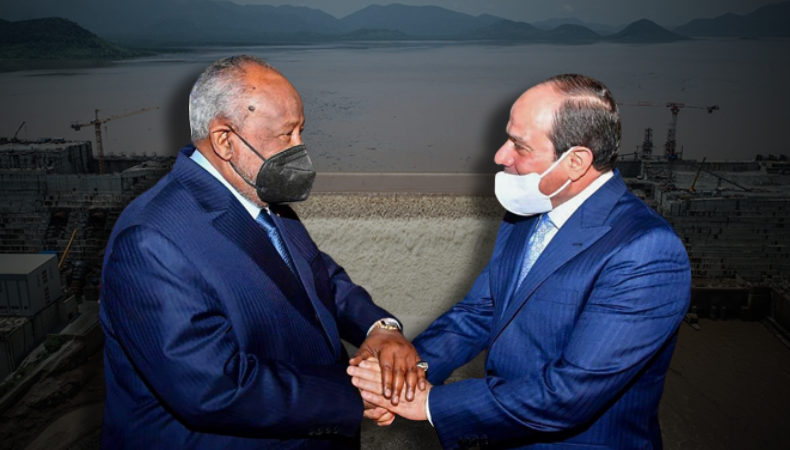 Egypt– Egypt's President Abdel Fattah Al-Sisi, on Monday, hosted his Djiboutian counterpart Ismail Omar Guelleh at Al-Ittihadiya Palace for talks on improving ties and the Grand Ethiopian Renaissance Dam (GERD). Ethiopia is building the dam on the Nile River's main tributary. However, Egypt deems the dam an "existential threat". The dam appears to challenge Egypt's water supply as the country gets 97 per cent of its water from the Nile River and its annual need for water is about 114 billion cubic meters.
The meeting between Guelleh and Al-Sisi took place amid an ongoing water dispute between Egypt and Ethiopia. The meeting between both leaders tackled developments regarding the dam. Reportedly, Egypt asserted its keenness to reach a binding legal agreement on operating the dam.
Guelleh's visit comes more than eight months after Al-Sissi paid a visit to the strategic Horn of the African nation. Al-Sissi was the first Egyptian leader to visit Djibouti since it declared independence in 1977. Reportedly, it was part of Egypt's efforts to build more African alliances during an ongoing water dispute with Ethiopia, which borders Djibouti.
Related Posts
The dam dispute talks between Egypt, Ethiopia, and Sudan was stopped in 2021. Both Egypt and Sudan have repeatedly demanded a legally binding deal to operate the dam. Both countries also called for the international community to help reach a legally binding deal. However, the Tigray civil war in Ethiopia halted the talks in 2021. Egypt and Sudan fear that the dam might affect their water shares, especially in times of drought.
Reportedly, Guelleh and Al-Sisi also discussed the security of the Red Sea and the strategic Horn of Africa. They also reviewed regional issues of mutual concern. They discussed ways to strengthen and develop bilateral relations at all levels. They also discussed Egypt's hosting and presidency of the United Nations' Conference of Parties on Climate Change (COP 27) in November 2022.