General Mark Milley believes that Russia won't be successful militarily in Ukraine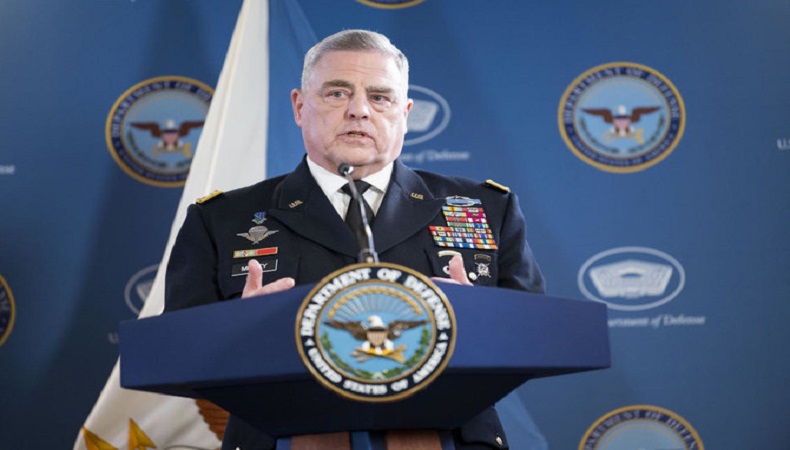 In addition to warning that Kiev is unlikely to drive out all of Moscow's forces anytime soon, top US officer General Mark Milley stated on Thursday that Russia will not win a military triumph in Ukraine.
His remarks confirmed predictions that the conflict in Ukraine would continue since neither side was in a position to gain a decisive victory and because no discussions were presently underway.
Also Read – Top US, Sudanese generals speak as Washington considers possible embassy evacuation
"Russia is not going to win this conflict militarily. After the completion of a virtual summit of dozens of countries that support Ukraine, Milley told reporters, "It's just not.
According to Milley, Russia's initial strategic goals, which included overturning the Kyiv government, "are not achievable militarily, they're not going to be done."
Thousands of Russian troops are also present in Ukraine, making Kyiv's goal of retaking the entire country implausible "in the near term," according to him.
That indicates that the combat will carry on, that it will be brutal, and that it will be bloody. And eventually, both parties will either reach a diplomatic agreement or a military settlement.
After Russia invaded Ukraine in February 2022, the US rapidly put together a coalition to help Kyiv and organized aid from other nations. The US has been at the forefront of the call for international support for Ukraine.
According to US Defense Secretary Lloyd Austin, the country's backers have given it security assistance worth close to $65 billion overall.
The White House said last week that Washington would approve sending modern airplanes, such as F-16s, to Ukraine, abandoning earlier reservations.
Austin and Milley said that on Thursday, supporters of Kiev "discussed plans for training Ukrainian pilots on fourth-generation fighter aircraft, including the F-16," stressing that "planning and executing this training will be a significant undertaking."
According to the US military commander, a fund may be set up to receive financial donations to support the endeavor from nations lacking F-16s or the capacity to provide direct training, maintenance, or sustainment support.
Also Read – Delist IRGC To Get the Nuclear Deal Going
Milley said that supplying Kyiv with the aircraft earlier in the conflict would have diverted resources from more pressing demands, whereas developing Ukraine's air force is a long-term project.