Israeli Prime Minister Rejects Independent Palestinian State, Sparks Outrage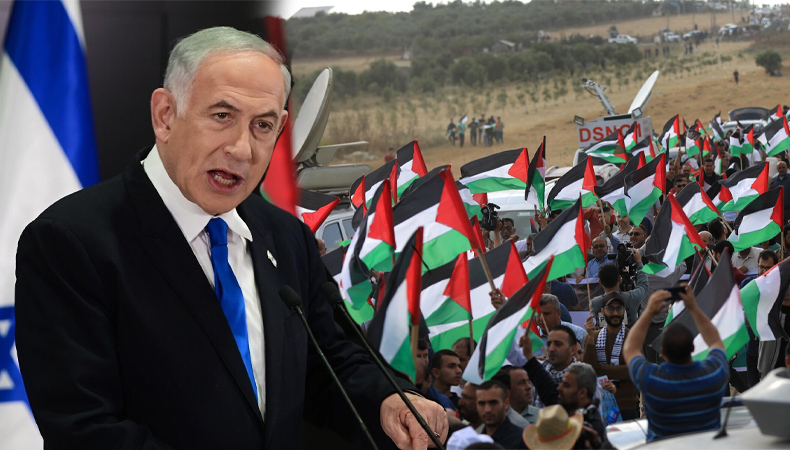 Palestinian authorities have reacted strongly to recent claims that Israeli Prime Minister Benjamin Netanyahu has rejected the creation of an independent Palestinian state. During a private discussion with members of the Israeli parliamentary committee, Netanyahu said it was necessary to crush Palestinian aspirations for independence. Although he stressed the necessity of the Palestinian Authority's (PA) continued operation, his remarks have stoked Palestinian officials' resentment and scepticism. This article explores the Palestinian response and analyses how Netanyahu's comments may affect the likelihood of regional peace.
Also Read – Israeli former PM calls on world leaders to avoid Benjamin Netanyahu
Netanyahu's Rejection of an Independent Palestinian State
In the private conference, Netanyahu flatly rejected the notion of a Palestinian state, saying that any aspirations for sovereignty on the part of the Palestinians "must be eliminated." The Israeli Prime Minister's comments signalled a change from his earlier token support for the two-state solution, even though he acknowledged the significance of the Palestinian Authority and expressed a desire to stop it from collapsing. If genuine, Netanyahu's claims have prompted Palestinian officials to ponder his real ambitions and motivations.
Palestinian Authority's Response
In response to Netanyahu's remarks, senior Palestinian officials expressed their steadfast support for the creation of a Palestinian state. Netanyahu's comments were challenged by Hussein al-Sheikh, the PA's minister of civil affairs, who also emphasised that the PA's responsibility is to secure the freedom, independence, and protection of the Palestinian people. Speaking on behalf of PA President Mahmoud Abbas, Nabil Abu Rudeineh emphasised that the only long-term prospect for security and stability is the establishment of an independent Palestinian state with East Jerusalem as its capital.
Implications for the Peace Process
In Palestinian political circles, Netanyahu's opposition to a Palestinian state has produced considerable resentment and scepticism. Many Palestinian officials interpret his words as evidence of his genuine motives and as a plan to keep the PA under check and weak. The potential of a territorially contiguous, independent Palestinian state, according to critics, has been continually damaged by Netanyahu's policies, which include settlement growth and infrastructure development in the West Bank.
Some Palestinian affairs specialists assert that the PA is already in the process of collapsing because of its poor performance and the absence of a viable political future for Palestinians. They contend that Palestinians now feel despondent as a result of Israel's ongoing settlement building, which makes it harder to establish a stable Palestinian state. It is alleged that Netanyahu's plan is to keep Israel in the status quo by keeping the occupation in place and depending on the PA to handle some issues.
Also Read – Israel's situation worsens as Benjamin Netanyahu rejects a judicial compromise
Palestinian authorities have responded strongly to Netanyahu's denial of a Palestinian state of independence and his remarks regarding the future of the Palestinian Authority. The chances of a two-state solution are now in doubt, and the future of the peace process is under threat as a result of the Israeli prime minister's comments. It is unclear how this most recent event would affect the already complicated and difficult Israeli-Palestinian conflict as Palestinian leaders reiterate their commitment to an independent state.