Israelis protest against PM Netanyahu, accuse him of eroding democracy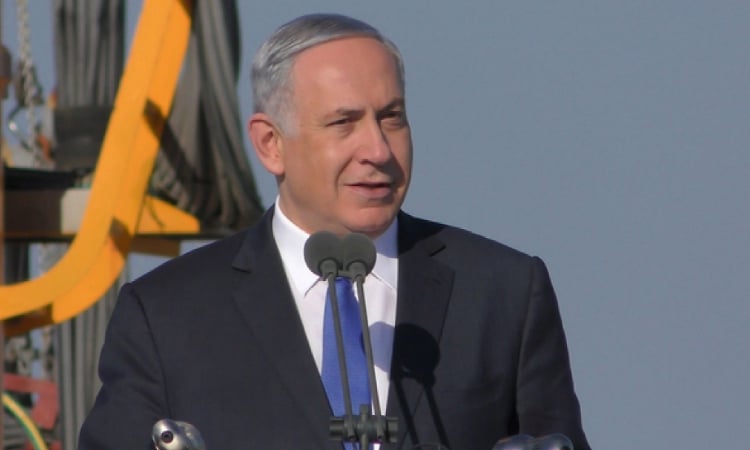 Amid the battle against Coronavirus, hundreds of Israelis staged a demonstration against Prime Minister Benjamin Netanyahu on Sunday. Standing apart from each other, wearing face masks, the protesters waved black flags and banners while demanding the government to "Save the democracy". The pro-democracy protesters called out Prime Minister Netanyahu of escaping prosecution on corruption charges in the shadow of coronavirus pandemic crisis and urged his rival Benny Gantz to not form a coalition government led by Netanyahu. They also criticized actions taken by the Netanyahu government to tackle the pandemic crisis, which reportedly included the intelligence agencies tracking the phones of the civilians.
Over 2,000 demonstrators were allowed to stage the "Black Flag" rally at Tel Aviv's Rabin Square while abiding the social distancing norms. Organizers of the rally marked spots (at distances of 6-feet) on the ground for the demonstrators to stand in follow social distancing restrictions. Raising chants of "democracy", they accused Netanyahu of endangering the country's democratic institutions. Leaders of YeshAtid-Telem party including Yair Lapid and Moshe Ya'alon addressed the crowd accusing Netanyahu of destroying Israeli democracy.
Facing charges of bribery, fraud, and breach of trust in three cases, Benjamin Netanyahu has been denying the accusations against him, and has called himself The victim of a hostile media and aggressive police and prosecutors". Ahead of his trial in the three corruption cases on March 17, the Israeli justice ministry declared a suspension of court proceedings in the wake of the pandemic crisis. The justice ministry later pushed the date of Netanyahu's trial to May 24.
Meanwhile, after the election held on March 2 ( Israel's third in a year), Blue and White party's Benny Gantz agreed to form an "emergency government" in coalition with Netanyahu in order to tackle the Coronavirus health crisis. Reportedly, negotiations are still underway between Netanyahu and Gantz for a deal to form the coalition government. There are over 13,600 COVID-19 positive cases in Israel, and over 170 reported deaths from the diseases. As per media reports, the Israel government approved the first easing of its lockdown due to slowed signs of the pandemic in the country.