Libyan FM Flees Libya After 'Secret Meeting' With Israeli Minister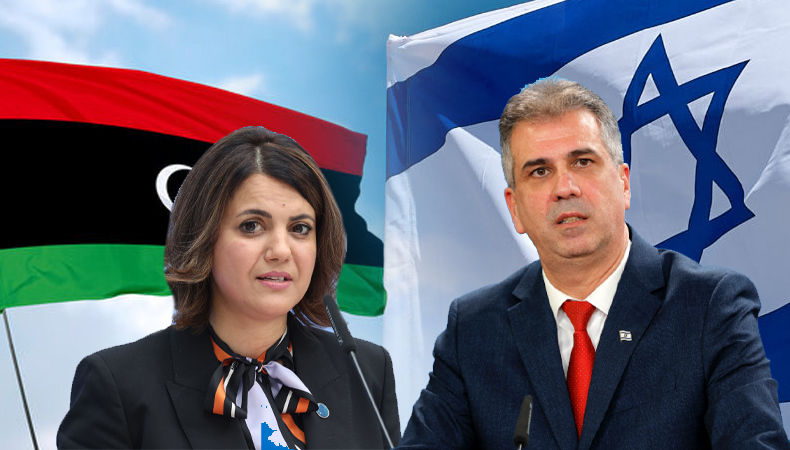 Libya has been rocked by protests after the meeting between Israeli Foreign Minister Eli Cohen and Libyan Foreign Minister Najla al-Mangoush for the first time in history. Cohen described last week's meeting with his Libyan counterpart in Rome as "historic first step". 
But it resulted in Najla al-Mangoush's suspension and an "investigation" was launched. In an attempt to save face, Libya's Foreign Ministry said the minister rejected a meeting with representatives of Israel and what occurred was an "unprepared, casual encounter during a meeting at Italy's Foreign Affairs Ministry".
Moreover, Mangoush with assistance from the Internal Security Agency has fled Libya to Turkiye on a Libyan government aircraft.
The Libyan Foreign Ministry highlighted that the interaction did not involve any substantive discussions, agreements, or consultations. It reiterated its unequivocal rejection of normalization with Israel.
But the Israeli minister said he discussed with Mangoush the great potential for the two countries from their relations, and the importance of preserving the heritage of Libyan Jewry, which includes renovating synagogues and Jewish cemeteries in the country. 
Keep Reading
Libya is pro-Palestine and staunchly supports the Palestinian cause. It doesn't recognize Israel. And now, the meeting between the Libyan FM and Israeli minister has resulted in demonstrations and protests in the capital Tripoli. Protestors have blocked roads, set tires ablaze and wielded Palestinian flags.
This led the Libyan Parliament's Speaker's Office to accuse Mangoush of "grand treason". It demanded an emergency session to address the matter. MK Yair Lapid, the opposition leader, said the uproar caused in Tripoli by Israeli Foreign Minister Eli Cohen's amateurish publication of his meeting with his Libyan counterpart proves that this government can't be trusted to handle sensitive diplomatic issues. He said the global community is looking at Israel's irresponsible leak of the Libya foreign minister's meeting and asking themselves "Is this a country with which we can conduct foreign relation?"
Lapid accused Cohen of lack of diplomatic experience and said the meeting reflected a serious failure of judgment. "This is a morning of national disgrace in which human life was put at risk for a headline."
Meanwhile, Israel's Labor party leader MK Merav Michaeli called on Cohen to resign. He said the damage done by the Israeli FM is unprecedented. "One hasty publication has ruined the life of the Libyan minister who has had to flee to Turkey and has caused international damage to Israel."