Moscow in lockdown as continued Navalny protests lead to thousands detained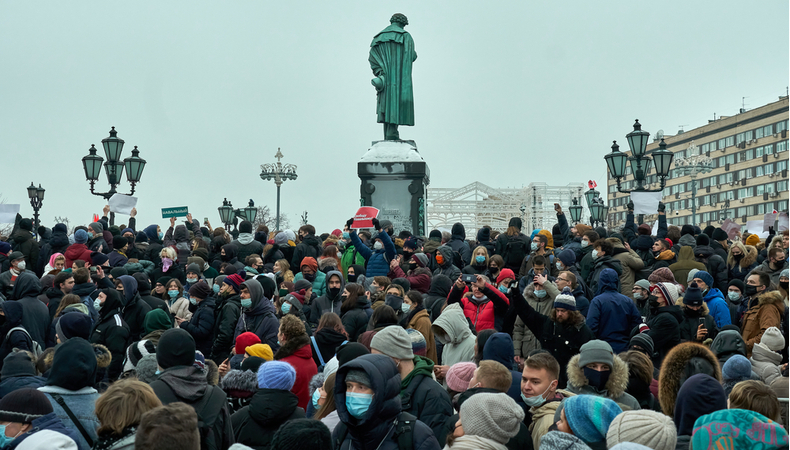 Arrest of opposition leader and Kremlin's most prominent critic Alexei Navalny has led to protests and demonstrations across Russia. Police has practically arrested the nerve of big Russian cities, including Moscow which is now under lockdown.
Russia is witnessing the largest and most critical protests in a decade triggered by arrest of Navalny as soon as he returned to Moscow after five months post recovery from poisoning with nerve agent. In an attempt to arrest rising dissent against Putin, police was ordered by Kremlin to detain over 5000 protesters, including Navalny's wife Yulia Navalnaya who was leading the protests that entered second week.
In an unprecedented move, seven central metro stations in Moscow were shut down by national guard troops and riot police and also blocked demonstrators off streets to avoid last week's biggest protests since 2012.The move by Russian authorities have been condemned internationally for arresting people merely for raising their voice against government and arbitrarily arresting peaceful demonstrators and journalists.
Police pursued protesters across the city with stun guns and batons and made random arrests in a brutal fashion, injuring several people. After Moscow city centre being closed, the protesters marched towards city's Komsomolskaya Square chanting 'Putin is a thief'. Behind them were armoured police for making mass arrests. As thousands were arrested, they chanted 'freedom' while moving towards Matrosskaya Tishina jail in Moscow. This is the same jail where Navalny is being held before his this week hearing.
One of the protester shares the experience. "Moscow looks like a fortress today. They can stop us when there are not enough of us but as more come it's going to be impossible to keep us penned in."Similar security precautions were taken by police in Russia's second largest city, St. Petersburg. Nevsky Prospekt, main centre of city, was shut down to prevent further demonstrations. Protesters however still managed to gather along sidestreets. The people had a face off with riot police who attempted to scare them with metal shields. Crowds responded with clapping.