Russia's Wagner to be declared a terrorist organization by UK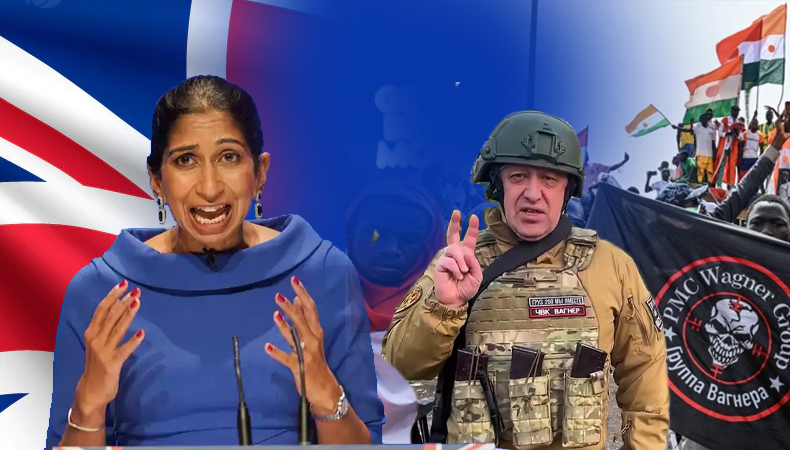 Wagner, a Russian state-funded private mercenary group controlled by Yevgeny Prigozhin until August 2023, is set to be declared as a terrorist group by the United Kingdom government.
Suella Braverman, Home Secretary of the United Kingdom, said, "Wagner has been involved in looting, torture and barbarous murders. They are terrorists, plain and simple."
The UK can make the Wagner group a "proscribed" organization under anti-terror laws. A draft order is also set to be laid in Parliament to declare the Russian mercenary outfit as a terrorist organization, media reports said on Tuesday.
Under the Terrorism Act 2000 of the UK, Suella Braverman has the power to declare an organization as a terrorist if she believes it is involved in terrorism. The act also gives the police the power to arrest a person, who is suspected to be a terrorist.
A proscription order by the UK makes it illegal to be a member or support the organization. A report in the Daily Mail quoted Suella Braverman as saying, "We are proscribing this terrorist organization and continuing to aid Ukraine wherever we can in its fight against Russia."
Keep Reading
Draft measures to ban Wagner and declare it as a terrorist organization under the Terrorism Act 2000 will be laid in Parliament on Wednesday.
The Home Secretary of the United Kingdom called the group "a violent and destructive military tool of Vladimir Putin."
The Wagner group
The Wagner group has played a major role in Russia's invasion of Ukraine. Wagner fighters have also been accused of killing and torturing Ukrainian citizens.
According to Catrina Doxsee, an associate director and associate fellow with the Transnational Threats Project at the Center for Strategic and International Studies, said that the group was also involved in the Ukrainian-Russian conflict in 2014.
According to the United States, the group had also operated in Syria and in various African countries, including Libya and Mali. Various human rights observers also said that Wagner fighters were responsible for the mass killing of people in Mali in 2022.
The UK also said that the Wagner fighters had carried out "executions and torture in Mali."
Recently, Yevgeny Prigozhin, who founded the group in 2014, died in a plane crash. He was buried in St Petersburg, a Russian port city on the Baltic Sea.