Saudi Arabia Puts Economic Relations Before Alliances With US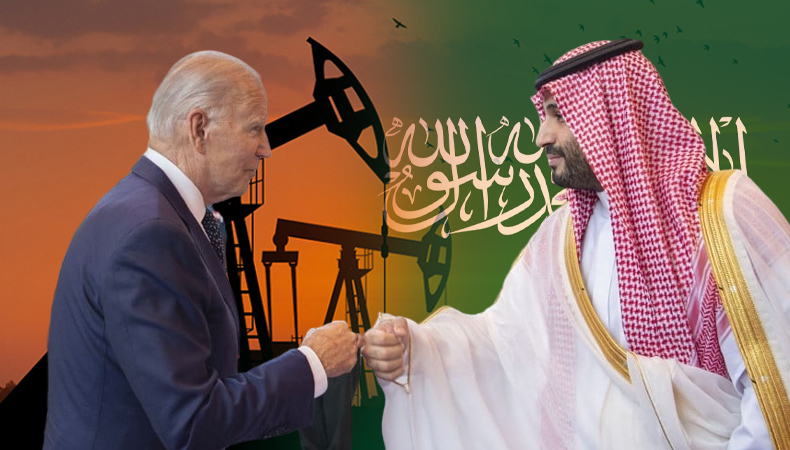 While Washington is very much keen to strengthen relations with Saudi Arabia in every aspect, Riyadh has put the kingdom's economic interests before partnerships and strategic alliances. This is evident in the fluctuation of oil prices and production cuts. And the US knows this.
Mid-September, oil price reached the highest level for the year 2023, and currently it's near $100 a barrel. But this rally will not be sustained. The price has more to do with geopolitical considerations than supply and demand.
And this makes the price more complicated. Data shows that supply curbs by the Organization of the Petroleum Exporting Countries and allies (OPEC+), and a combined 1.3 million bpd voluntary cut from Russia and Saudi Arabia until 2023-end, have pushed futures prices to 10-month highs. 
Saudi Arabia wants to achieve high prices to reward producers. But it doesn't want to push the market to the brink. The kingdom doesn't want to destroy demand and send economies into recession. Saudi Arabia understands that rising oil prices can harm economies, manufacturing and the overall global demand. But it also doesn't want prices to drop so much that it cannot meet its own development targets and ambitions.
Saudi Arabia Oil Wars and Economic Tactics
Since July 2023, Saudi Arabia has cut an additional one million barrels a day from the global market as a temporary measure, and this is likely to continue till the end of the year. Russia has also made voluntary export cuts. Experts say this move will boost prices further amid the world already struggling with higher oil prices.
Bob McNally, president of Rapidan Energy, said this shows Saudi Arabia and Russia's unity on oil policy. Both countries want to limit the risk of a slowdown in world economic growth weighing on crude prices. McNally believes the supply cuts will drive deep deficits into global oil balances. This will push crude oil prices well above $90 per barrel. 
Keep Reading
Dan Pickering, chief investment officer at Pickering Energy Partners, said Saudi Arabia wants higher prices and was making sure that crude did not slip back. "The extension of this cut to me proves that Saudi is serious. The floor price for crude is moving higher."
The US criticized Saudi Arabia for the cuts and working closely with Russia. Jake Sullivan, US National Security Adviser, said President Joe Biden was doing everything to get lower prices for consumers at the gas pump in the US.
US – Saudi Arabia Relations More than Oil
But the US says relations with Saudi Arabia are much more than oil. Washington is trying to wane Riyadh away from Russia, China and towards an ally in the Middle East, Israel. Saudi Arabia wants to have its own name and not live in any one's shadow. Like other Gulf States, Saudi Arabia has not taken sides in rivalries between the United States and other world powers.
However, the US wants Saudi Arabia in its corner because of its strategic, security and economic importance.