Saudi FM: Kingdom will keep working to get foreigners out of Sudan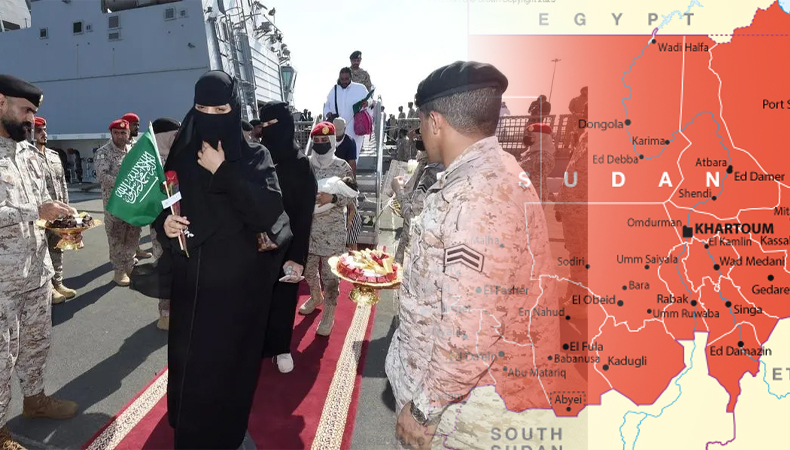 At the King Faisal Naval Base in Jeddah on Monday, a Saudi ship carrying 199 refugees from Sudan of various nationalities arrived.
In a statement released on Monday, the Saudi Ministry of Foreign Affairs said: "In continuation of the efforts made by the Kingdom of Saudi Arabia under the directives of its wise leadership in evacuating its citizens and nationals of brotherly and friendly countries from the Republic of Sudan to the Kingdom, 10 Saudi citizens arrived in the city of Jeddah this evening, and the number of nationals of brotherly and friendly countries who were evacuated reached 189 people."
In order to facilitate the evacuations, we are actively working with our brothers in Sudan to ensure safe and secure passageways, according to Saudi Foreign Minister Prince Faisal bin Farhan on Tuesday. To facilitate the secure evacuation of foreign nationals to their destinations, the Kingdom of Saudi Arabia will continue its efforts and extend support.
On Monday, Saudi Arabia reiterated its appeal for a prompt end to military operations in Sudan. Among the evacuees were 104 inhabitants of Libya, 45 from Lebanon, 15 from Syria, four from Sudan, three from Iraq, two from Turkey, and one from Sweden.
In addition to the 10 Saudi citizens who were also on board the ship, there were five Britons, two evacuees from Qatar, the US, and Italy, three Dutch citizens, and a Tanzanian.
The connection between her office and Saudi Foreign Minister Prince Faisal bin Farhan, according to Italian deputy consul general Irene Buongiorno, had been "very effective."