The effects of Déby's death: Macron attends the funeral in Chad, while Haftar moves the Libyan armyto Southern border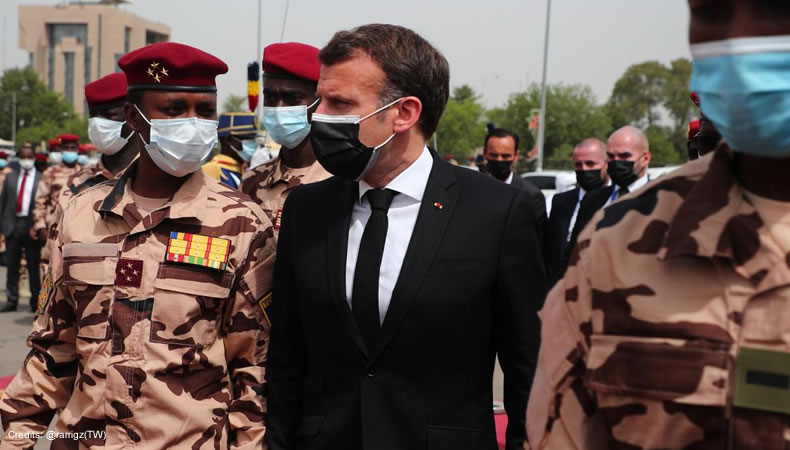 Going in person to the funeral of Idriss Déby Itno, President of Chad who officially died in combat against the rebels, French President Emmanuel Macron, first of all, pays homage to a crucial ally of France in Africa. But Macron's trip is also interpreted as a support to the successor to lead the country, General Mahamat Idriss Déby Itno, son of the president and appointed in turbulent circumstances.
Macron's visit is not simple participation in the funeral. The French president arrives in the capital Djamena in tension, with an armed uprising in the north and a population that fears a new period of instability and violence, as well as in a context in which the opposition and civil society of Chad are shouting the "coup been" in the face of the mysterious events of the last days.
Macron's arrival and Paris's blunt statements show that France supports stability in the region after Libya, Sudan, and Niger expressed concern over what was happening in the neighboring country. The Chadian army is the most active among those of the five Sahel countries in the fight against jihadist groups alongside the French force Barkhane, whose headquarters are located in N'Djamena. The French military hopes for continuity and not for change.
Read more : Chad, the president killed by the rebels
The Libyan General Khalifa Haftar moved his troops to the southern border on the orders of Presidential Council President Mohammed Menfi. Who discussed, during a phone call with the president of Niger, Mohamed Bazoum. Both Memphis and Bazoum stressed the need for the African Union (AU) to play its important role in taking adequate measures to reduce tension in the region and the need for cooperation to find a solution to shared threats.
During the call, Memphis congratulated Bazoum on the occasion of his election as President of Niger, and at the beginning of the advent of the holy month of Ramadan. The Chadian Military Council, led by President Mohamed Doby's son, announced he will take control of the country's affairs in an 18-month transition, while opposition forces have confirmed the continuation of operations against the army.
The Chadian government stated on April 13 that its Air Force had been searching for days for what it described as Chadian "mercenaries" who had infiltrated the northern areas of the country from Libyan territory. On Wednesday, the Libyan Presidential Council instructed all military units in the south to raise their guard, urging them to take immediate action to secure and protect Libya's southern border, addressing any hostile targets or possible threats.