The political turmoil responsible for the crisis in Sudan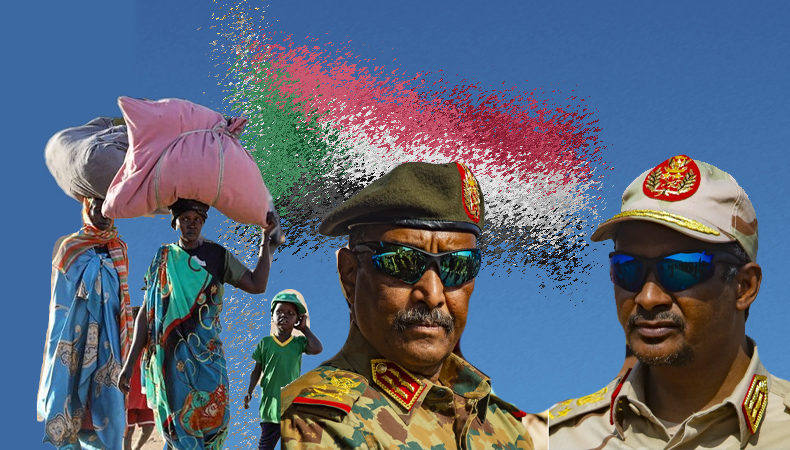 As a rising civil conflict threatens to destabilize the wider region, fierce clashes between Sudan's military and the nation's primary paramilitary organization have killed hundreds of people and forced thousands to flee for safety.
The fighting broke out in the middle of April amid what appeared to be a struggle for power between the two major military government factions.
Gen. Mohamed Hamdan Dagalo, commonly known as Hemedti, is backed by the paramilitaries of the Rapid Support Forces (RSF), a group of soldiers, whereas Gen. Abdel Fattah al-Burhan, the country's de facto leader, is largely supported by the Sudanese military forces.
Prior to the 2019 uprising that overthrew despot Omar al-Bashir, there had been a power struggle. He gathered strong security troops during that period, which he deliberately divided against one another.
Attempts to install a democratic, civilian government after Bashir was toppled were unsuccessful, and diplomats in Khartoum issued a warning in the early months of 2022 that they were concerned that similar upheaval would start. In the days leading up to the start of the fighting, tensions had risen.
Bashir founded the RSF to put an end to the more than 20-year-old insurrection in Darfur that had been sparked by the locals' political and economic neglect on the part of Sudan's central government. The RSF was sometimes referred to as the Janjaweed, a term that came to be associated with a number of crimes.
Before sending the Janjaweed to put down an uprising in South Darfur in 2013, Bashir gave their leaders military ranks and converted them into a semi-organized paramilitary force. The battles in Yemen and Libya saw the deployment of several of them.
Since the 2019 revolt, the civilian demand for military control and RSF absorption into the regular armed forces has been a major source of friction.
Additionally, civilians have demanded the transfer of lucrative military assets in trade, agriculture, and other sectors. These holdings are a vital source of power for an army that frequently outsourced military operations to local soldiers.
Sudan is located in a dangerous area that borders the Red Sea, the Sahel, and the Horn of Africa. It's strategic location and agricultural wealth, which have attracted regional power conflicts, make a smooth transition to a civilian-led government less likely.
Concerns like contested farmland along their border have affected Sudan's relations, particularly with Ethiopia. Several of Sudan's neighbors have been affected by political unrest and violence, including Ethiopia, Chad, and South Sudan.
Thousands of Sudanese refugees have flooded into Chad from the country's neighbors as a result of the recent violence.
Recently, the United Arab Emirates (UAE) has evacuated its residents from Sudan. According to the UAE Ministry of Foreign Affairs and International Cooperation, the evacuation was carried out to secure the safety of UAE citizens and to give them the support they needed.