Tunisia presidency clarifies the attempted poisoning of President Kaïs Saied, "he is in good health"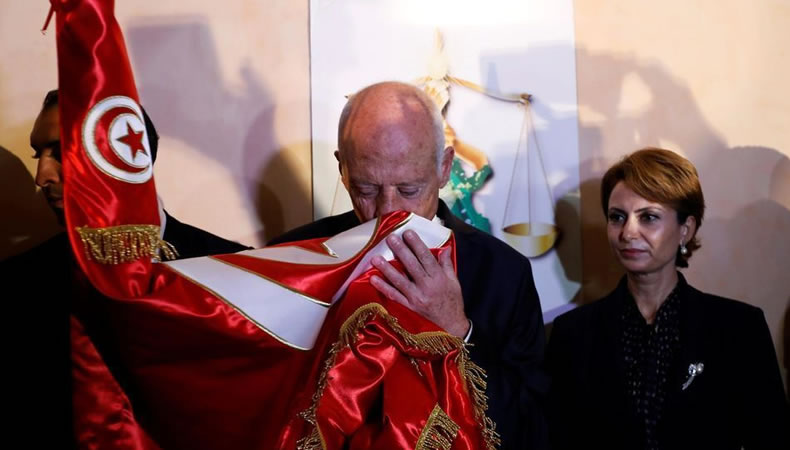 In an official statement, the Tunisian Republic Presidency clarified the news circulated in the local media regarding an attempted poisoning of the Head of State Kaïs Saied. The Presidential Office in Carthage announced that on Monday 25 January 2021, around five in the evening, the Tunisian Presidency received a special letter addressed to the President of the Republic, Kaïs Saied, adding that it was an envelope without the sender's name.
"The director of the presidential cabinet opened this letter and found it empty of any writing, but as soon as he opened the envelope, his health deteriorated, and he felt faint, almost completely lost her sense of sight with a big headache." The note explained, adding that another employee of the presidential office was in the room when the correspondence was opened and experienced the same symptoms, but to a lesser extent. The Carthage office also announced that the envelope was inserted into a paper shredder before it was decided to send it to the attention of the Ministry of the Interior.
"Until now, it has not been possible to determine the nature of the material that was inside the envelope." The presidency clarified, while local media speculated it was ricin, a powerful natural cytotoxin capable of causing cell death by blocking the protein synthesis activity of ribosomes. The Director of the Presidential Cabinet went to the Military Hospital in Tunis to carry out the necessary checks and discover the causes of sudden health consequences.
Read more : Tunisia will not be able to emerge from the crisis if it does not turn the page of political Islam
The statement affirms that "the Presidency of the Republic did not publish the news on the day the accident occurred to avoid stirring up public opinion and creating confusion, but this news was circulating on social media, so it had to clarify." The presidential office then reassured the Tunisian people that the Head of State is in good health and has not suffered any damages, thanking the relevant security services, in particular, the General Security Administration of the Head of State and the officers in charge for their promptness and speed in carrying out the necessary examinations, as well as the medical services of the General Administration of Military Health for their prompt intervention.
The Presidential office took the opportunity to reaffirm its will to guarantee the freedoms enshrined in the Constitution, including freedom of opinion, thought, expression, media, and publication. "The Presidency declares its absolute support for the free word that expresses free opinion". It expressed its surprise, on the contrary, for those trying to pursue who has transmitted this attempted poisoning news, instead of seeking who have made this miserable attempt."