What is Ballon d'Or: Lionel Messi Scoops His 8th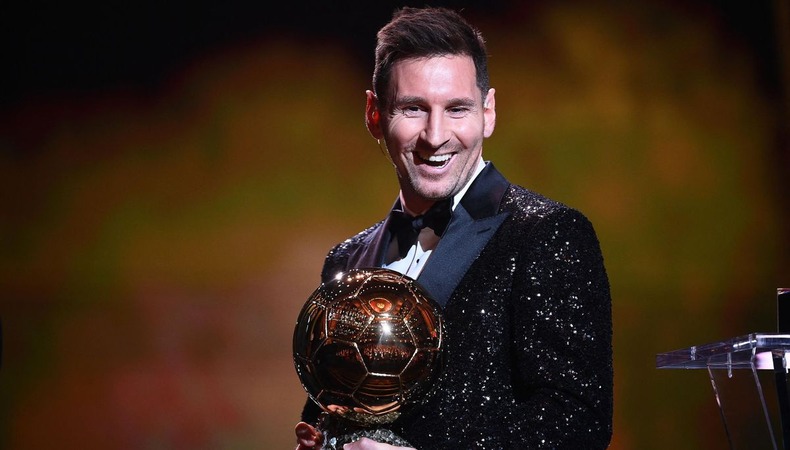 Football superstar Lionel Messi won the prestigious Ballon d'Or for the eighth time, beating Robert Lewandowski who came in second and Jorginho third in the voting. Barcelona's Alexia Putellas grabbed the women's Ballon d'Or.
Messi was very much enthusiastic and emotional holding his eighth trophy. "I don't know how many years I have left, but I hope there will still be many because I am having enormous fun." The Argentine footballer was all praises for Lewandowski. The Barcelona striker was the favorite to win the prestigious trophy in 2020 but the event was cancelled because of COVID-19 pandemic.
"You deserve your Ballon d'Or. Last year, everyone was in agreement to say that you were the big winner." Messi showered his Argentina coach and teammates with praises. "Tonight I'm enjoying myself. It's a pleasure that will never leave me, and I hope to be able to enjoy it for many years to come. Becoming world champion was the title we were missing. I'd like to thank everyone who helped make Argentina the world champion team."
Ballon d'Or (Golden Ball)
Nominated players for the Ballon d'Or are voted according to their on-field performance and overall behavior on and off the pitch. Emphasis is put on behavior as the player must have role model qualities, both on the field and off. The judges also look at the team's success during the previous season and individual performance.
The Ballon d'Or was created in 1956 by Gabriel Hanot, the head of France football, to recognize European players. Over the years, the award has evolved
The voters are main journalists, a media member each from more than 180 countries. They pick their top five for the men's award. The votes are then tabulated by France Football to determine the final ranking.
France Football decided to restrict the field of nations in 2022. Voters were reduced to the top 100 countries from the FIFA men's world ranking, and top 50 countries from the women's world ranking for the women's award. Voting is transparent, with the name of each media member, their outlet and the players they voted for in the specific order they ranked them.
Keep Reading
Arts & Culture Contributes to Saudi Arabia Economy
Groundbreaking: Iran Women Can Watch Football Matches in Stadiums
Messi first MLS-based Player With Ballon d'Or
Former England team captain, now retired and co-owner of Inter Miami, David Beckham handed the Ballon d'Or to Lionel Messi. The 36-year-old is the first MLS-based player to have received the coveted prize.
"I couldn't imagine having the career that I've had. Everything that I've achieved. The fortune I've had playing for the best team in history. It's nice to win these individual trophies."