Beyoncé Shines in Omani Label Atelier Zuhra Bodysuit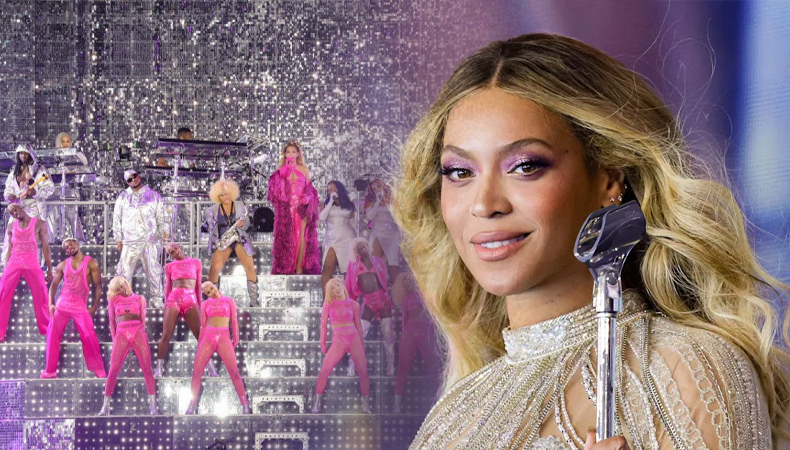 Global music sensation Beyoncé wowed fans at her Renaissance World Tour stop in Las Vegas as she showcased an exquisite scarlet bodysuit designed by Omani label Atelier Zuhra. A flowing flower-petal round cloak and a unique, opulent-red bodysuit costume with dazzling crystals gave even more grandeur to her Vegas performance.
Atelier Zuhra recently shared the fashion moment on Instagram and praised Beyoncé's decision, writing: "The enormously brilliant @beyonce dazzles in a custom opulent-red #ATELIERZUHRA bodysuit gown studded with shimmering crystals. She dresses elegantly for the #RenaissanceWorldTour Vegas finale with a flower-petal circular cape.
Throughout her globe tour, Beyoncé has previously worn Arab clothing. Just a few days previously, she made a statement at her performance in St. Louis, Missouri, wearing an eye-catching yellow bodysuit by Lebanese designer Nicolas Jebran. Her support for Arab designers is a testament to her dedication to displaying a variety of fashions and artists on her tour, which will make 57 stops before wrapping up in October.
Keep Reading
Beyoncé has supported other Arab designers on her tour, and on numerous occasions, she has been spotted donning Amina Muaddi's heels from Jordan. Amina Muaddi said on Instagram that she was thrilled to be a part of Beyoncé's historic tour and was grateful for the opportunity. She wrote: ""I'm so happy to be part of this queen's historic tour. Every time I see her on stage, I'm in complete awe of her — the ultimate supernova. Grateful to @beyonce and her team of incredible creatives for these @aminamuaddiofficial moments on stage. "
Beyoncé has worn clothing on stage by a variety of well-known designers and labels, including Alexander McQueen, Loewe, Gucci, Fendi, and David Koma. This has allowed her to display a dynamic fusion of fashion inspirations throughout her performances. Beyoncé's fashion selections continue to be a striking representation of her respect for international innovation and style as the Renaissance World Tour continues to enthrall audiences all around the world.