'Despicable': Israel Slams UN Resolution for Gaza Ceasefire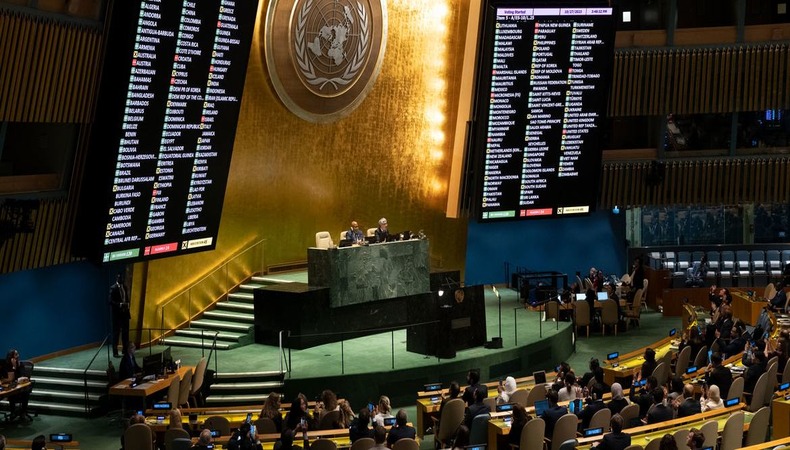 The Israel Defense Force has intensified attacks in Gaza after the UN General Assembly adopted Jordan's resolution for an immediate, durable and sustained humanitarian truce. The resolution called the release of all civilians, protection of civilians and international institutions, and safe passge of humanitarian aid into the Gaza Strip.
Israel rejected the UN resolution saying its committed to toppling Hamas, a Palestine-based militant group that launched Operation Al-Aqsa against Israel on October 7, which killed 1,400 Israelis. It reiterated that they are only targeting Hamas terrorists and infrastructure.
The US also rejected calls for a ceasefire arguing that it would mean victory for Hamas. However, the US backs humanitarian pauses to get humanitarian aid into war-torn Gaza.
UN Resolution Has Political Weight
The UN resolution, introduced by Jordan, has the support of 120 countries. 14 countries voted against, while 45-countries abstained from voting. Mahmoud Hmoud, Jordan's UN ambassador, called for action on the resolution because of the urgency of the escalating situation on the ground.
Speaking on behalf of the UN's 22-nation Arab group, he said Israel is responsible for the atrocities that are being committed now in the ground invasion of Gaza. However, Israeli Foreign Minister Eli Cohen called the resolution despicable and insisted that Israel intends to eliminate Hamas just as the world did with the Nazis and ISIS. He said the United Nations no longer holds any legitimacy or relevance, and accused those who voted "yes" of preferring to support the defense of Nazi terrorists instead of Israel.
Analysts believe that Israel and the US can cry and throw tantrums all they want but the face is that the resolution drafted by the Arab states carries political weight. The UN General Assembly voted after the Security Council failed four times to take action.
Riyad Mansour, Palestinian UN envoy, told reporters that the resolution sends a message that "enough is enough". "This war has to stop, the carnage against our people has to stop and humanitarian assistance should begin to enter the Gaza Strip."
Keep Reading
Tunisia Government Criminalizes Relation With Israel
UN Chief Calls 'Action to End this Godawful Nightmare' in Palestine
UN Wants to Prevent Wider War
The UN General Assembly stressed the importance of preventing further destabilization and escalation of violence in the region. It called on all parties to exercise maximum restraint and urged all those with influence to work towards this. The UN General Assembly called on Israel to rescind its order for civilians in Gaza to move to the south of the enclave.
Despite the call for ceasefire and allow for humanitarian passage, Israel continues with airstrikes in Gaza. The Israeli military is expanding ground operations, inching closer to its plans for an all-out invasion of the already besieged territory. It has cut off communication – internet, cellular and landline services – to the area, cutting off contact with the world.