"Enough with you": Thousands protest in Israel and call for Netanyahu's resignation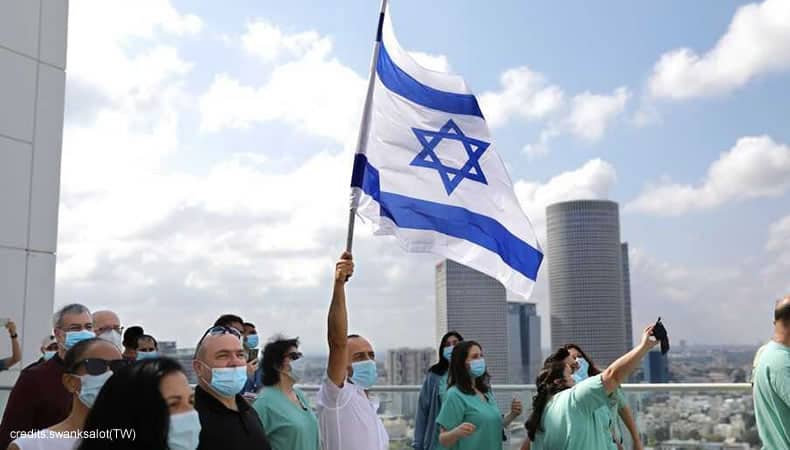 Israeli protesters in thousands gathered outside Prime Minister Benjamin Netanyahu's official residence on Saturday night. This was an extension of months long country's protests to demand for the Prime Minister's resignation. The demonstrations have been ongoing due to Netanyahu's ineffective handling of the coronavirus crisis which has led to mass unemployment in an unprecedented way. The corruption too is believed to be a prime reason for the calls for resignation as Netanyahu is currently on trial over corruption charges.
Protesters were seen holding white and blue Israeli flags and banners that read "Get out of here" and "Revolution". A sign projected on a building read in Hebrew "Enough with you." Dispersed protests were held across the country calling out for Netanyahu to step down.
Israeli government was able to control the coronavirus in the beginning of pandemic outbreak but was rather quick to reopen the economy leading to a stronger outbreak in country which it is unable to tackle now. Country is recording a death toll of over 1000 and Covid-19 active cases exceeding 26,000. Government is now considering a new lockdown phase to curb the rapid spike of new infections.
Demonstrations have been mostly peaceful but at several locations scuffles between protesters and police was reported. So far approximately 13 arrests have been made. Two police officers are also reported to be injured when crowd pushed their way through a blockade.
Netanyahu has rejected the ongoing protests as "anarchists" and "leftists". The foreign policy successes that Netanyahu registered in past few weeks haven't done much to pacify the protesters. Serbia and Kosovo gave a diplomatic boost last Friday to Israel after Serbia announced to move its embassy to Jerusalem. Kosovo said it too will work to strengthen its ties with Israel through its embassy in Jerusalem. Following Israel's historic peace agreement with United Arab Emirates last month, Serbia and Kosovo become third and fourth nations to move their embassies to Jerusalem, the contested city.
Despite being on trial over corruption charges which include bribery, breach of trust and fraud, Netanyahu has asserted his firm decision to remain in office. The charges constitute three corruption investigations against Netanyahu which have been long running.