EXCLUSIVE: July 25 movement calls for the dissolution of the Tunisian Parliament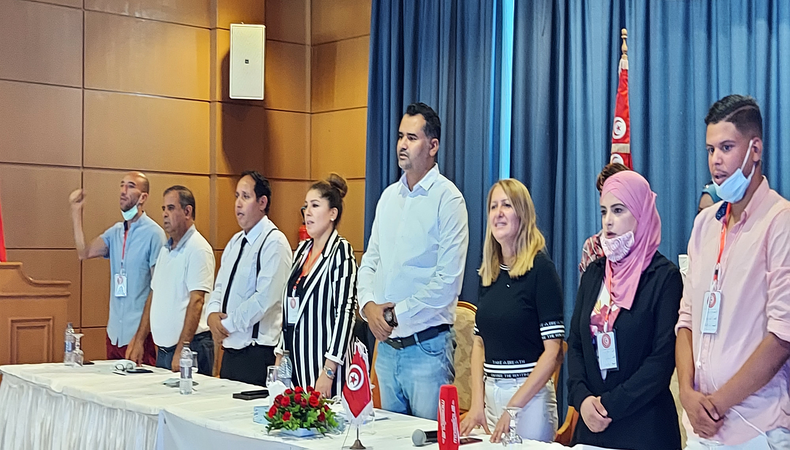 The pacific youth movement of July 25 organized a press conference in Central Tunis, Hotel Africa, calling on President of the Republic Kais Saied to dissolve the Parliament led by Ennadha's leader Rachid Ghannouchi. The movement also says to reject dialogue, excluding any possibility of returning to the previous political system. Nassaf Al-Hammami, co-organizer of today's event, condemned all parties involved in corruption and crimes against the Nation, demanding justice and those responsible for being legally persecuted.
The movement favors a new political and electoral system, demanding the head of State to fulfill all the demands raised by Tunisian youth on the July 25 demonstrations. In a final statement, the movement reaffirmed that the historical movement calls Tunisian people to mobilize their energies to save the country from the deteriorating situation it has reached. At the end of the meeting, which saw significant local and international media participation, the movement reported that it was the victim of an attack by the Muslim Brotherhood and its channels, reaffirming neutrality and independence from each party.
The movement of July 25 claims to be a spontaneous and independent youth mobilization, born to give voice to the rights of Tunisians and to say enough to the corrupt political class that after the fall of Ben Ali in 2011 led the North African country to the brink of failure. Widespread anger rises once again against the Islamist parties, seen as responsible for the current circumstances.
It must be said that President Kais Saied appointed yesterday Ali Merabet as head of the management of the Ministry of Health. Saied renewed his commitment to the provisions of the constitution. In response to allegations of a coup against him after activating chapter 80, which provides for the dissolution of the government, he said: "Your oath under article 89 it is nothing more than proof that we are acting under the provisions of the constitution. "
The president reaffirmed the right of Tunisians and all human beings to health. "Health institutions, and public ones, do not meet the minimum conditions to preserve human health. Health is a right and not a commodity in the political and financial markets." The head of State said, underlining that millions of vaccines have been provided in a short period thanks to air, land, and sea bridges with fraternal countries and friends.
The head of State accused the political parties, without naming them, of trafficking in the health of citizens. He stressed that large quantities of vaccinations and medical equipment, especially oxygen, were available when there is the will and thanks to men and women's historic and essential work.