Iran Protesters Mark Deadly 2019 Crackdown With Fresh Protests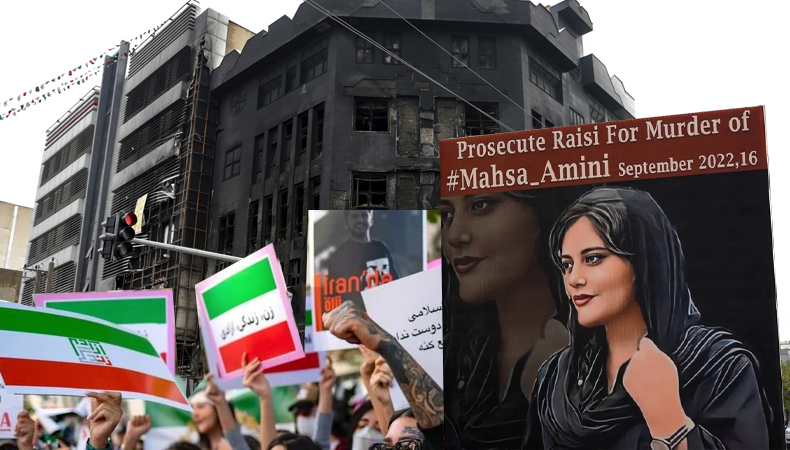 The protests that erupted after the death of a 22-year-old Iranian Kurdish woman, Mahsa Amini, on September 16, were given new life by the call to remember those killed in the 2019 deadly crackdown.
The protesters commemorated those slain in the 2019 crackdown on Tuesday. The protesters marked the third anniversary of the start of "Bloody Aban" (Bloody November) when an overnight fuel price hike ignited street violence and protests in Iran in 2019.
According to online videos verified by the AFP, stores in Tehran's Grand Bazaar and other regions of the country were closed on Tuesday to remember those killed in the 2019 crackdown. Protesters also blocked a major roundabout at Sanat Square and shouted, "Freedom, freedom, freedom"
Read | Additional sections on Iran by EU over human rights violations
Reportedly, vendors closed their shops out of concern that they would be set on fire. Women protested by raising their headscarves (hijabs) in the air. Some people also chanted, "Death to the dictator."
According to a rights group, Iranian security forces shot dead at least two protesters in Sanandaj and Kamyaran. Hengaw, a rights group based in Norway, reportedly said, "The security forces have directly opened fire in most of the cities where uprisings have taken place, like Sanandaj, Kamyaran and Kermanshah."
The United Nations (UN) Human Rights Office also urged Iran to release thousands of detained protesters. Jeremy Laurence, the UN Human Rights Office spokesperson, reportedly said, "The authorities are responding to unprecedented protests with increasing harshness."
According to Amnesty International, around 304 people died in the protests in Iran. However, a tribunal of rights organisations held in London this year revealed that the death toll was likely much higher.
The 2022 protests erupted after the death of Amini. She died on September 16, three days later after her arrest for allegedly violating the strict dress code for women. The protests have entered the eighth week now.