Iraq: President steers past rivals trying to undermine him in controversial pardon case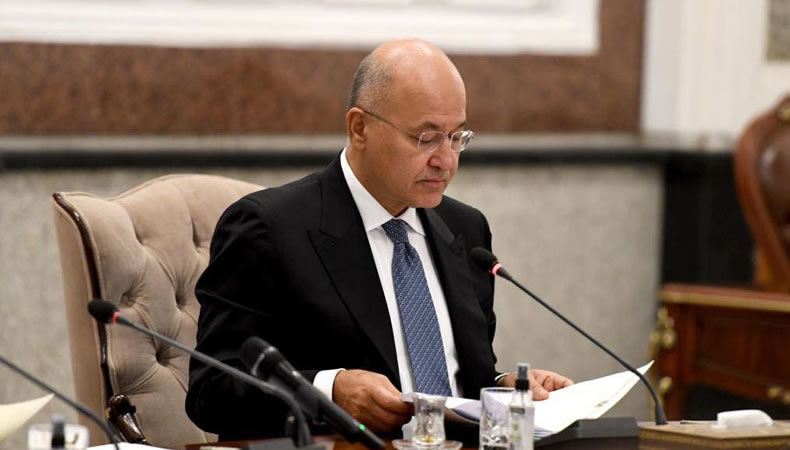 Iraq–Outgoing President of Iraq, Barham Salih has dodged a political bullet that could have undermine his chances of new term, thrown in by his rivals. President Salih has cancelled the pardon that he had issued for son of a former governor who is convicted of drug trafficking.
On recommendation of his Prime Minister Mustafa Al – Kadhimi, President Barham Salih had granted amnesty to Jawad Louay al-Yasseri this January. Jawad Louay al-Yasseri was arrested in 2018, whose father was at that time governor of the central province of Najaf, and sentenced to life imprisonment. Life imprisonment amounts to a 20 year jail term in Iraq, after the felon has been convicted of drug trafficking charges.
The pardon of high profile person had created a political turmoil and provided a high charged ammunition to rivals of President Salih who was looking forward to confirm his new term as leader of Iraq. This was especially charged up renewal after Federal Supreme Court of Iraq had decided to exclude his major challenger, former Minister of Foreign Affairs Hoshyar Zebari, from the Presidential election candidacy.
Related Posts
Sources in Baghdad revealed that pardoning Yasseri was a hasty decision and that it was recommended without required checking of his background and circumstances of his crime. The sources added, "Since President Barham Salih did not know the person who was to receive the presidential pardon, he went along with the proposal of the prime minister, who is the head of the executive branch most familiar with the details and circumstances of the case."
After reviewing the details of case, President Salih ordered to cancel the decree of Yasseri's pardon. He also then instructed the judicial authorities to take the required necessary measures to rearrest Yasseri. Salih said in February, "I am running for the position of president of the republic after I won it by an independent national decision. I realise this it is a great honour and a great responsibility," adding that "The president of the republic must be a symbol of the country's unity and sovereignty and a protector of the constitution and be the president of all Iraqis, a president not a subordinate."