Saudi, American Muslims embrace 'giving nature' of Islam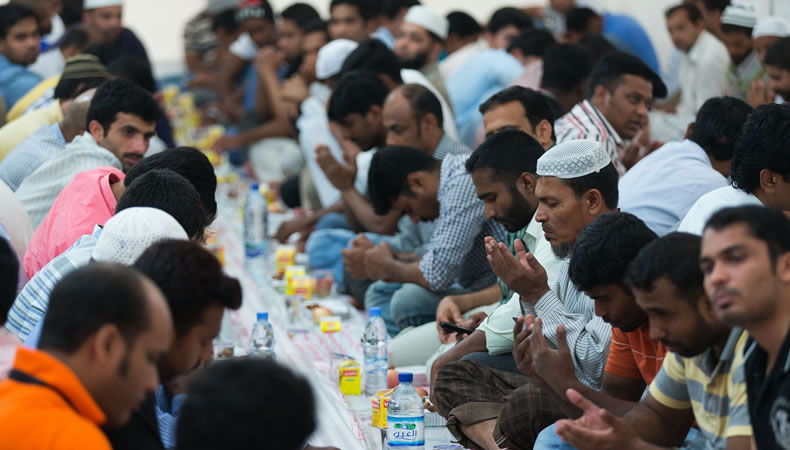 Saudi arabia–Muslims in the United States and Saudi Arabia said on Wednesday that Muslims are highly "generous," and that this generosity is demonstrated in regional and international charitable endeavours, particularly during the celebration of Islamic festivals like Eid Al-Adha, which begins this week.
The "Festival of Sacrifice," also known as Eid Al-Adha, commemorates the Prophet Abraham's willingness to sacrifice his son Ishmael to demonstrate his belief in Allah (God), but who was instead told to sacrifice a lamb by the Almighty. This historical tradition is shared by Jews, Christians, and Muslims.
According to regional correspondent for Arab News and deputy sections chief Rawan Radwan, "giving" is a fundamental Islamic principle, particularly during the Eid holiday.
"After prayers, Muslims customarily sacrifice lambs, goats, and cows to remember the Prophet Abraham's dedication. Everyone is required to give something to those in need, obviously depending on the animal. We give to our friends and relatives. But naturally, the majority goes to the poor, who are the ones who are most in need, Radwan said during an appearance on The Ray Hanania Show.
Related Posts
Every year, during Eid, several charities distribute aid, food, fruit, and even sacrificed animals. That is just one viewpoint. Of course, there are charities here (in Saudi Arabia). Many of these organisations receive funding from the government as well as from generous donors. They receive produce, clothing, and food.
"Here, the power of giving is precisely what it is. This is all around you, thus it belongs to nature. Many residents of this community simply take it for granted. The power of giving is something that is very much felt here for Saudis and I'm sure a lot of other communities as well.
According to Atya Kazmi, the Chicago regional manager for the Islamic Circle of North America Relief, and PEW Senior Researcher Besheer Mohamed, the behaviour of Muslims who moved to America reflects the sense of communal solidarity and inclusivity throughout the Eid celebrations.
According to Kazmi, the ICNA, which has chapters all across the US, oversees up to 70 food banks for the underprivileged, oversees 20 transitional homes for families who are homeless, and even plans events to coincide with special occasions like Eid Al-Adha to provide joy to everybody. According to Kazmi, ICNA Relief is holding a 1,000 Toy Drive this week so that kids can celebrate the Eid Al-Adha holiday.
"In addition to toys, we attempt to provide them with clothing and make sure that food is distributed. Our services are available to everyone since, as we all know, Muslims are obligated to assist the poor regardless of where they are or to what religion, nationality, or culture they belong. When people in need come to our offices, we properly manage their cases and give them the services they require.