Saudi Arabia and South Korea Seal $15.6 bn Worth of Deals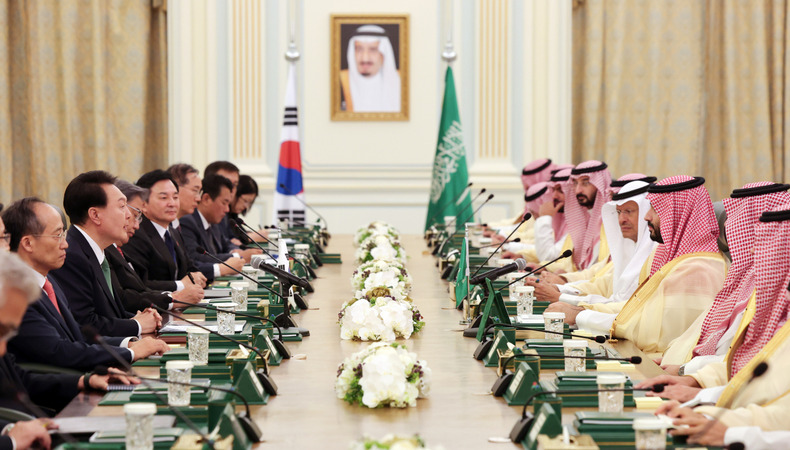 Saudi Arabia and South Korea have embarked on a strategic partnership to deepen and expand cooperation across all fields. They drafted a MoU to establish the Strategic Partnership Council between the two governments.
Leaders of both countries explored initiatives and sealed billions of dollars worth of contracts and projects at the South Korea-Saudi Arabia investment forum in Riyadh. This comes as a milestone as the summit commemorated 50 years of constructive cooperation between South Korea and Saudi Arabia.
South Korean President Yoon Suk Yeol emphasized the kingdom's importance to Korea as a trusted and cooperative partner.
Extensive Meeting between Saudi Arabia and South Korea
Deals and contracts were sealed and signed between leaders of Saudi Arabia and South Korea in an extensive meeting over the weekend. The deals included the Hydrogen Oasis Initiative for cooperation in green and clean hydrogen, and a deal to mutually exempt holders of diplomatic, private, and official passports from short-stay visa requirements.
They also signed a joint statistical cooperation program between the General Authority for Statistics of Saudi Arabia and Statistics Korea (KOSTAT), a MoU between the Saudi Food and Drug Authority and the Korean Ministry of Food and Drug Safety to strengthen cooperation in the fields of food and medical products.
Moreover, the Korean National Oil Cooperation signed a contract with Saudi Arabia's state-owned petroleum and natural gas company Aramco for the joint storage of 5.3 million barrels of oil. Aramco, as per the deal, will store and sell the oil at the Ulsan storage base by 2028. South Korea will have priority in purchasing the stored oil in the event of a domestic petroleum supply emergency and will receive rental income during the five-year lease period.
Saudi Arabia – South Korea Industries Will Thrive
South Korea's Hyundai Motors and the kingdom's PIF are set to jointly invest $400 million to set up a car assembly plant in King Abdullah Economic City in Saudi Arabia's Makkah Province. This plant aims to produce 50,000 electric and gas-powered vehicles per year starting in 2026.
Yoon said from roads and ports to refineries, anywhere they go in Saudi Arabia, they can easily come across facilities bearing the sweat and passion for the two countries' companies. "The stable oil supply of Saudi Arabia, the biggest oil-producing nation, became a solid cornerstone for the Republic of Korea's growth into a top 10 economy."
Keep Reading
North Korea Extracting Weapons-grade Plutonium: South Korea
US Warns Iran Amid Raisi's Phone Call to Saudi Crown Prince
He believes Saudi Arabia has immense potential for future growth and endless possibilities for mutually beneficial cooperation between the kingdom's potential and South Korea's technologies.
South Korea Keen for Regional and Global Peace
The Korean president and Saudi Crown Prince also talked about the growing security instability fueled by North Korea's nuclear and missile provocations, armed conflicts between Israel and Hamas, and the war in Ukraine.
Yoon said the summit will be an opportunity to exchange views on how they can contribute to global peace and sustainable development. "The Korea-Saudi Vision 2030 Committee at the ministerial level serves as a platform for economic cooperation between the two nations, playing a pivotal role in advancing bilateral relations across fields including automotive, ship building, biotechnology and culture."