The West condemns Erdogan's decision to turn Hagia Sophia into a mosque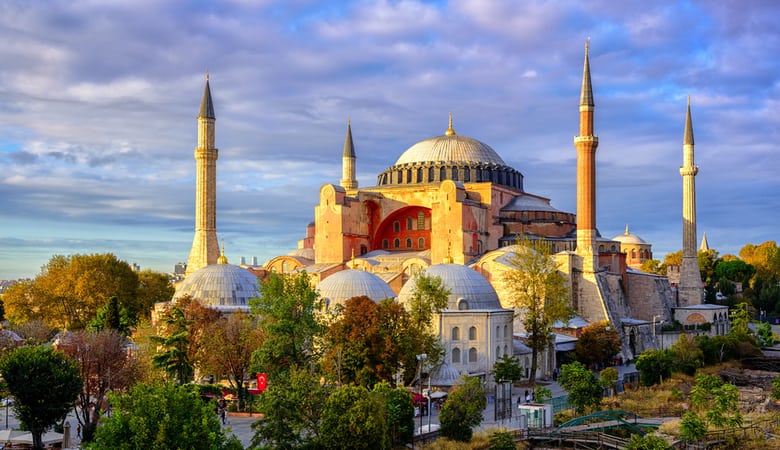 Hagia Sophia has a strong symbolic, historical and universal value. Turkey has developed a well-established tradition of cultural conservation as well as a recognized tradition of intellectual and cultural openness. The ruling by the Turkish Council of State to overturn one of modern Turkey's landmark decisions and Turkish President Recep Tayyip Erdogan decision to place the monument under the management of the Religious Affairs Presidency, is regrettable. As a founding member of the Alliance of Civilizations, Turkey has committed to the promotion of inter-religious and inter-cultural dialogue and to fostering of tolerance and co-existence.
The European Union affirmed in a statement released on Friday evening, while the Greek PrimeMinister Kyriakos Mitsotakis announced that his country condemns more decisively Turkey's decision to convert the mosque of Hagia Sophia, the former Byzantine cathedral of Istanbul, into a mosque, warning that this step will adversely affect the relations between Athens and Ankara.
Read More: Will Erdogan's Hagia Sophia mosque plan work
"The Turkish decision will affect not only relations between Greece and Turkey, but also Turkey's relations with the European Union, UNESCO and the entire international community". Mitsotakis added. Previously, Greek Culture Minister Lina Mandoni described the Turkish decision as a "provocation for the civilized world,"and warned that the nationalism shown by President Erdogan is returning his country to six centuries ago.
Yesterday, the Turkish State Council approved requests made by several organizations to annul a government decision dating back to 1934 which gave the site "museum status" but the Greek Minister of Culture believed that this judicial decision confirmed the absence of independence of the judiciary under Erdogan's regime. In her statement, Mandoni stressed "the Hagia Sophia is a building that belongs to all humanity, regardless of any religious belief."
The Cathedral of Saint Sophia is an architectural masterpiece that the Byzantines built at the entrance of the Bosporus in the sixth century and were crowned by their emperors.After the Ottomans conquered Constantinople, in 1453,Turkish ancestors changed the name of the ancient capital of the Byzantine Empire to Istanbul, they turned the cathedral into a mosque in the same year.
Hagia Sophia is listed on the World Heritage List of the United Nations Organization for Education, Culture and Science and is considered one of the most important tourist destinations in Istanbul.The world begins to understand Erdogan's danger, his decision to transform Hagia Sophia into a mosque represents only the last move of his contempt for the West and other cultures.