Turkey's Approval of Sweden's NATO Membership Triggers Talks on Drone Parts Export Controls with Canada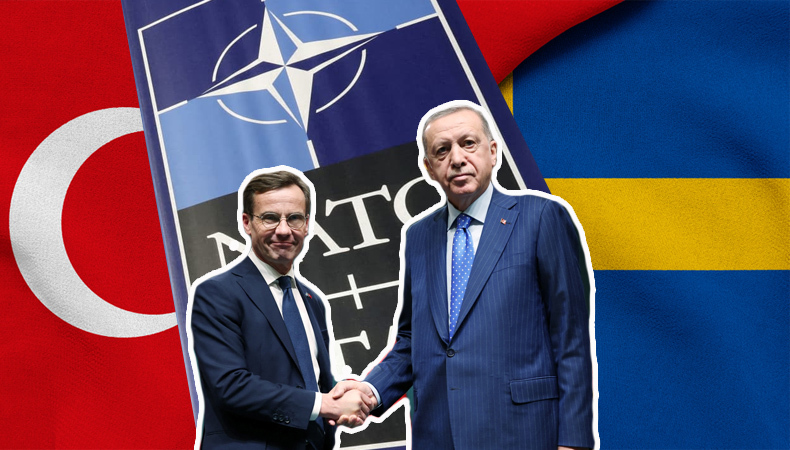 According to reports, Canada has resumed talks with Turkey about removing export restrictions on drone parts, particularly optical gear. The choice was made after Turkey approved Sweden's application to join NATO, a move that startled many, including Turkey's domestic allies who had earlier requested that Sweden take specific measures to allay Ankara's fears. The deal between Turkey and Sweden is considered a component of a more extensive package of concessions Turkey was able to secure. Additionally, the United States has revealed plans to give Turkey F-16 fighter fighters, underscoring the enhancements in Turkey's international ties.
Also Read – US and Turkey's defense secretaries discussed support for Turkish military modernization
Background
Turkey's stance has significantly changed due to President Tayyip Erdogan's decision to back Sweden's NATO membership application. Turkey had fought against Sweden's desire to join the alliance for over a year. Turkey's domestic and foreign partners were caught off guard by Erdogan's sudden decision, as they had previously backed his demands that Sweden take action against organisations that Turkey considers terrorist.
Azerbaijan's troops utilised the equipment in the conflict with Armenia in Nagorno-Karabakh, leading Canada—a NATO member—to prohibit the supply of specific drone technology to Turkey in 2020. Canada has now consented to reopen talks on removing these limitations, notwithstanding the current export limits in light of Turkey's ratification of Sweden's NATO membership.
The Reopening of Talks
According to an unnamed source involved with the discussions, Canada has agreed to restart negotiations with Turkey to relax export restrictions on drone parts, particularly optical equipment. The source noted that the talks had been put on hold since Turkey's initial opposition to Sweden's and Finland's NATO membership ambitions the previous year. Canada decided to continue the discussions only if Turkey agreed to approve Sweden's membership at the Vilnius Summit.
Canada's Position
The office of Canadian Prime Minister Justin Trudeau released a statement in response to the developments reiterating Canada's dedication to the idea of unrestricted defence trade and investment among NATO partners. The declaration noted that Canada, including President Erdogan, had spoken with its allies at the Vilnius Summit about Sweden's entry to NATO. However, it also highlighted that the export restrictions put in place by Canada in 2020 will continue to be in effect for legitimate reasons.
Turkey's Demands
Turkey asked for Canada's export restrictions to be discussed in the final agreement while negotiating with the US to transfer F-16 fighter fighters. Canada agreed to reopen negotiations on the export restrictions problem in response to Turkey's demand for a complete agreement. The resumption of discussions on export restrictions significantly influenced Turkey's choice to back Sweden's NATO membership application.
Future Steps
Canada presented Turkey with its stance on the regulations controlling the use of foreign technologies at the Vilnius Summit and is now expecting a response from Turkey. The resumption of discussions on export restrictions indicates progress and illustrates Canada's readiness to participate in negotiations to find a solution. An official from Turkey's defence ministry highlighted that it was unacceptable for NATO partners to place export restrictions on one another and claimed that the Vilnius Summit had resulted in progress. The representative said that Turkey would adhere to the discussions and decisions made during the summit.
Also Read – New Ambassadors & Diplomatic Ties in Egypt and Turkey
Recent events involving Sweden, Canada, and Turkey show a change in Turkey's foreign policy posture, notably concerning NATO membership applications. Due to Turkey's decision to back Sweden's request, several of its friends have made compromises, such as Canada's willingness to reopen negotiations on removing export restrictions on drone parts. Even as the negotiations continue, it is evident that Turkey's foreign policy choices and demands are affecting its relations with NATO allies and changing the dynamics of the alliance. The conclusion of these conversations will impact Turkey's NATO membership and defence industry.