With protests catching fire, Trudeau pledges to freeze protestors bank accounts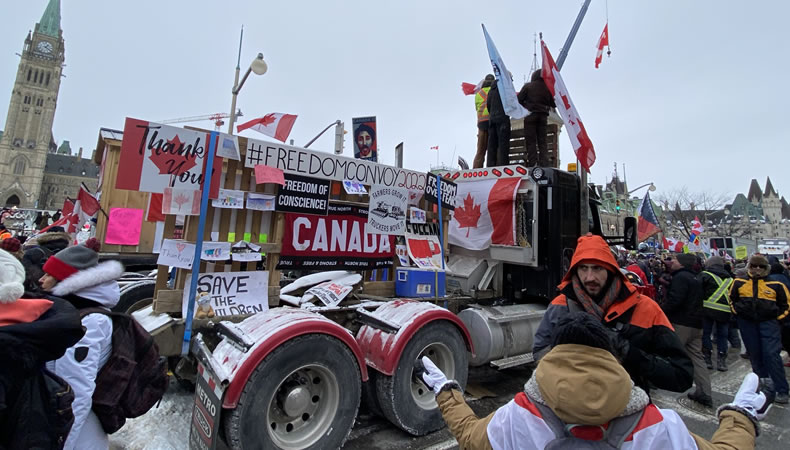 Canada–Covid-19 vaccine mandate has not gone down well with the Canadian population as they feel that it snatches their freedom to choose. The government not backing down from the mandate made people angry and they protested that decision.
To counter the demonstrators, the Canadian Prime Minister Justin Trudeau took a huge step of invoking the Emergencies act to figure out the people who have been protesting against the mandate. The leader said that the emergency imposition will only be time limited, reasonable and would not see military deployment.
With the order in place, the banks will be able to identify and freeze the accounts of the protestors. The Canadian city of Toronto has been witnessing the most number of protests on a daily basis in different parts of the city.On Sunday, law enforcement finally intervened in the matter, clearing the anti-mandate protesters at the major Ambassador Bridge in Windsor. This was taken as a critical pathway for the trade relations between Canada and the United States.
Related Posts
Initially, the Canadian population was not as aggressive as it is right now but as things started to go against them, they began holding large protests, calling out people to stand against the government's rule. The incident started with a rally where majorly the truckers were seen protesting against the mandate that all truckers must be vaccinated to the US-Canada border, or quarantined upon return.
The rule has become a huge challenge for the truckers and hence contributing to a much larger concern of restrictions imposed during the pandemic. On Monday, the PM talked about it in a press conference saying, "This is about keeping Canadians safe, protecting people's jobs." He also stressed that the police officials will be given more power and tools to imprison or fine the protestors and protect the critical infrastructures from being damaged.