Hamas Shares Same Space With Palestinian Counterpart In Algerian Independence Day Celebrations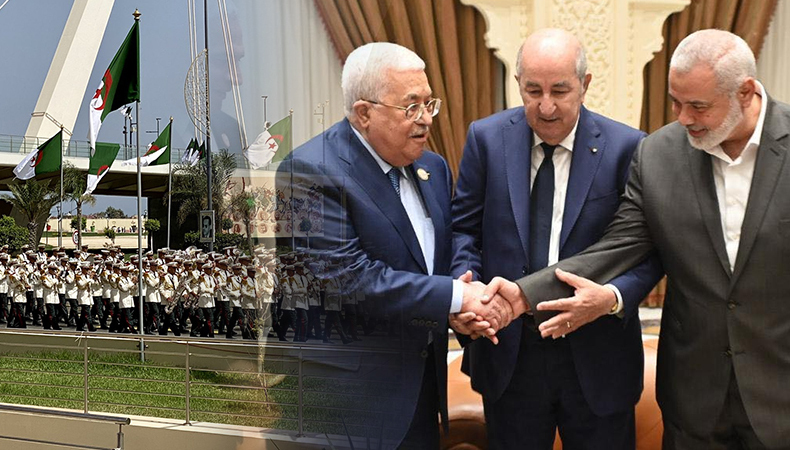 Palestine–The Algerian independence anniversary celebrations seemed to have been dressed with a rather special guest on honour- the Palestinian President Mahmood Abbas. It was for the first time in five years that the leaders of Algeria and Palestine could come together.
Also in attendance was Hamas leader Ismail Haniyeh who made the public meeting possible for both him and Abbas. Those covering the event have called this a 'historic' move with representatives of the Palestinian Authority and Hamas also in attendance.
This was a massive move in the sense of peace descending over Palestine and Hamas. Mr Abbas' secular Fatah party, dominates the Palestinian Authority and rules the Israeli-occupied West Bank. It is no new news that PA has been at loggerheads with Hamas since elections in 2007, when Hamas took control of Gaza.
Related Posts
There are indications of reconciliation. But neither leader's offices have released details of their conversation. The two major Palestinian parties — Abbas's Fatah and the Islamist terror group Hamas are the main protagonist for fights.
While both groups have tried to come on common grounds for conversation, this has been a rare occurrence. It is a sad truth but since 2007, Palestine has not been able hold elections successfully.
The split between Fatah and Hamas took hold in 2007, when Hamas violently took over the Gaza Strip and expelled its rival. Abbas called Palestinian legislative elections for May 2021 — but the PA leader nixed it just weeks ahead of the polls, blaming Israel for not promising to allow East Jerusalem residents to vote.
Many observers noted, however, that the more likely rationale was the infighting in Abbas's Fatah movement and its unpopularity, which raised the specter of defeat to rivals both inside Fatah — such as Marwan Barghouti and Mohammed Dahlan — and outside it, such as Hamas.