Israel closes goods crossing after Hamas-led balloons attack near Gaza Strip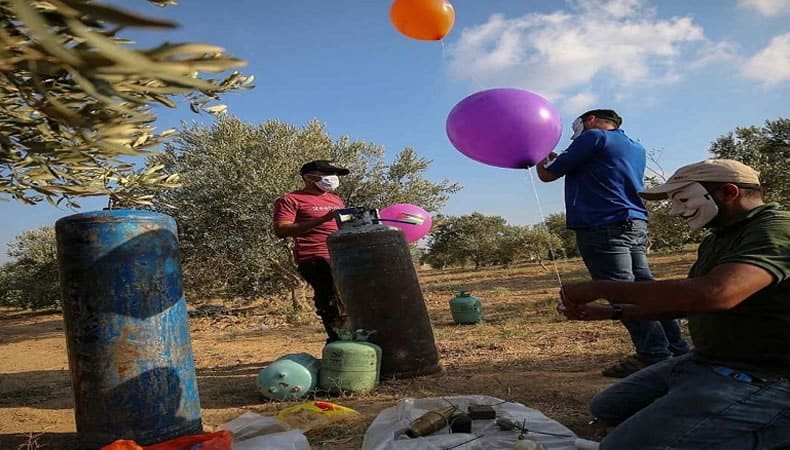 On Tuesday Israel announced closing its goods crossing with the Gaza Strip border after series of explosive balloon attacks, carried out by Hamas, the militant group. Announcement of shutting the border was made by Israeli Defence Minister Benny Gantz, who said that the Kerem Shalom border crossing would be sealed until further notice to all traffic except transport of humanitarian equipment and fuel.
"In the south, Hamas is continuing to enable explosive balloon attacks to be launched into the state of Israel," Defence Minister Benny Gantz said on Tuesday morning. "We are not prepared to accept that and have closed the Kerem Shalom border crossing as a result."
Israeli fire services in the southern part of the country reported 60 fires caused by the Hamas' explosive balloons on Tuesday alone, though no casualties was reported. "There will be a very heavy price for the balloon terrorism. We shall not tolerate it," Prime Minister Benjamin Netanyahu said during a visit to an air force base on Tuesday.
Hamas, Iran-backed radical group, condemned Israel's decision over sealing the Kerem Shalom border as an "aggressive". The Israel designated terror group operating in Palestinian land said that the decision showed Israel's "insistence on laying siege" to Gaza, which it added could lead to further worsening of the humanitarian situation in the coastal strip. Sources close to Hamas reported that it shot rockets against Israel, which released multiple balloons as a "message" that it would not "remain silent" about Israeli hegemony and blockade, which the armed group take as "aggression".
Gaza Strip is said to be under Israel's control since 2007. The Isreali forces and Hamas fighters have been at war against each other since 2008 in order to gain control over the region. The militant group resorted tying explosive to kites and balloons during 2018 protests to destroy Israeli farm land and communities near border. The recent attacks between the two sides escalated on Monday when Hamas attacked the region with explosive ballots, which further led to retaliatory strikes by Israeli forces on the militant groups' locations.
The war-torn Gaza Strip, despite terrorism, has also been battling with poverty with around 53 percent of Gaza's population living below the poverty line before the novel coronavirus crisis, according to the World Health Organisation. The percentage is believed to have gone up by 60 percent, worsening the plight of its people post the onslaught of coronavirus pandemic.